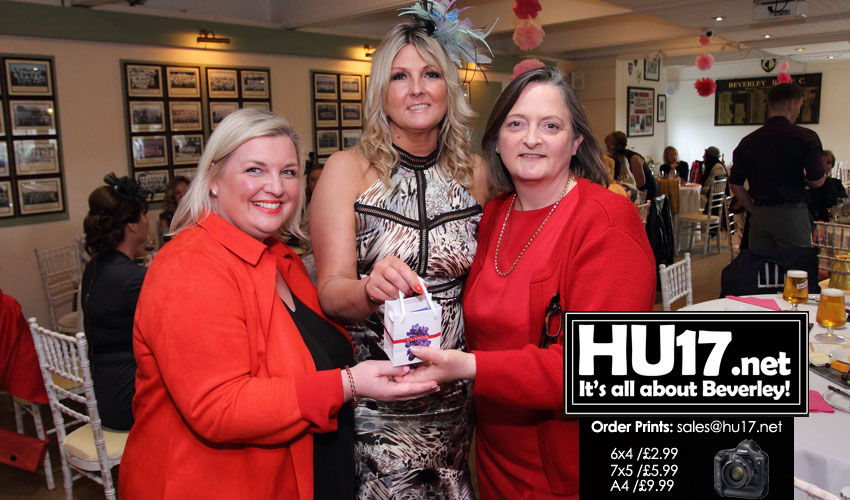 Beverley Rugby Club held their annual Ladies Day event which again proved to be a great success. The popular event saw the women take over the normally male-dominated clubhouse for their match against Middlesbrough.
Officials from the club and guest said it was fantastic while adding it was great to see so many people support it.
Raising money for charity over a hundred ladies enjoyed a meal and a few drinks. They were also given gifts and treats courtesy of the event sponsors.
Carol Innes, Vice Chairman Beverley Rugby Club said;
"We had 120 people attend out Ladies Day event which we are hosting at Beaver Park in aid of the charity Her Breast Friends."
"The day certainly went extremely well, everyone at the club is delighted with how well it has gone. Everyone seems to have had a good time while it must have been good for the gents to have so many ladies here."
"Throughout the event, we were raising money for the charity. Clarins provided gifts for all the ladies and also a prize. The match shirts were also auctioned off."
Rugby Club Thank Event Sponsors For Ongoing Support
Carol added;
"Our event this year has again been sponsored by Clarins and Light Source. On behalf of the club, I would like to thank them for their ongoing support."
"They have been sponsoring this event for four years, we love them for it. It really is appreciated."
Fiona Rainforth who works in a school was dressed as an Orange basket. She was named the joint winner of Best Dressed, an accolade shared with Jane Dearing.
Speaking about the event and her outfit Fiona said;
"If you are going to dress up you certainly have to make it fun and make it fruity. So I went all out and did a basket of oranges on my head. I made the outfit myself as I just love making things."
"I think Ladies Day at the Rugby Club has been absolutely brilliant from start to finish. Lots of people back and also lots of people attend. The atmosphere is just fantastic."