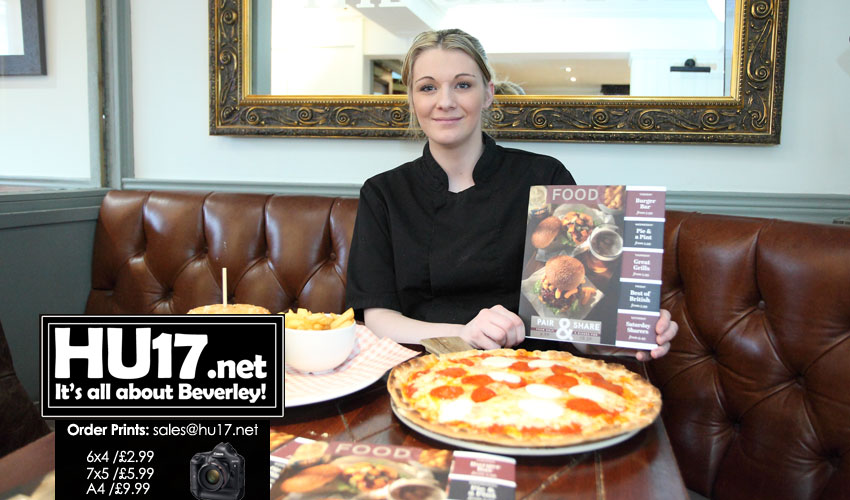 Sherrie Smart, The Deputy Manager at The Grapes Inn says that their new menu is proving to be very popular with customers.
The Saturday Market pub is currently running a totally new menu that includes multiple options for Vegans.
Speaking to HU17.net Sherrie said;
"Our new menu has been a real hit with customers. We are serving food seven days a week and have plenty of options for vegans."
"As a business, we are really looking to cater for Vegans, this is company wide incentive to cater for what is a growing trend."
"With the new menu, we have also seen a return of our grills. Our new burgers are also much better quality."
"People can create their own burgers too. We do both beef and chicken which come as a double as standard. You can then add things like Reggae Reggae Sauce, Tandoori and standard things like cheese and bacon."
"There is no question that the quality of food we are serving has certainly improved. Aside from burgers, we have added build your own pizza and chicken wings."
"Sunday dinners are also available. We serve two types all day, again these are also proving to be popular."
TripAdvisor Speaks Volumes About New Menu At The Grapes Inn
With the new menu, The Grapes have regular offers. One these offers run on a Tuesday where you can get a burger and pint for just £5.99.
Sherrie says they are pleased with the feedback they are getting from customers. The review site TripAdvisor is full or feedback from people praising them for their service, quality and value.
Sherri adds it's not only food worth shouting about. She wants to remind people they also show all the major sporting events, she said;
"If it is being screened we have it on in the pub. We show Sky Sports, BT Sport and Box Nation. As we have a number of screens we can show multiple events at the same time."
Food is served from 10AM to 8PM Monday to Thursday and from 10AM to 6PM on Friday and Saturday. On a Sunday food is available from 11AM to 6PM.
More information about the offers can be found on 'The Grapes Inn Beverley' Facebook Page.