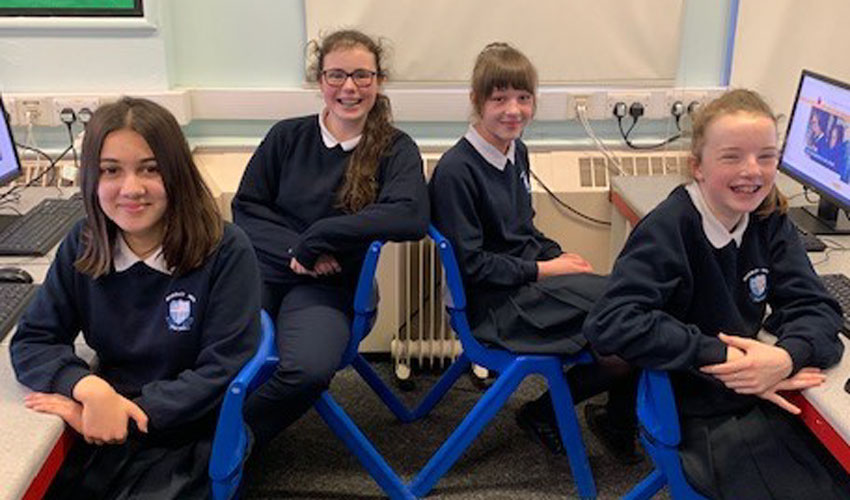 Four Beverley High School students have reached the national final of the GCHQ's CyberFirst Girls to be held in Edinburgh.
CyberFirst is a programme of opportunities and supports helping young people explore their passion for computers and technology. Also, it helps young women to the fascinating and critical world of cyber security.
Tanya Norman, Lottie Wilkinson, Libby Boswell and Evie Lavin beat off competition from 12,000 students. As a result of their efforts, they reached the finals, an achievement the school is rightly proud of.
Sarah Brownell, Head of Careers at Beverley High School said;
"I couldn't be prouder of our students. Listening to the Head of Station at the Scarborough Campus really inspired them. It opened their eyes to the world of Cyber Security and espionage."
"Whilst working through the competition the team worked incredibly hard showing real perseverance."
"Some of the challenges took a long time to solve but at no point did they give up. They thoroughly deserve a place in the final."
Sarah explained how the girls came to enter the completion, she said;
"Part of my role involves organising an annual careers fair in which 56 employers visit Beverley High School. Here they meet our students to provide them with an insight into their profession. GCHQ have supported this event for the last two years."
"Due to this event, I was informed of an annual competition for Y8 girls. With only 12pc of its workforce made of women GCHQ is certainly keen to inspire and encourage women into their workplace."
"We were offered a once in a lifetime opportunity to visit their Scarborough campus to meet the Head of Station and learn more about the competition. I took 84 girls with me and all of them entered the competition."
Beverley High School Heading To GCHQ's CyberFirst Girls
"They completed a series of online challenges within different categories. These included Cryptography and Cyber Security."
"12,000 students entered and the top 1pc are invited to the final in Edinburgh. One of our teams made it into the top 1pc."
"The girls worked extremely hard at lunchtimes and also after school to solve them. Everyone at Beverley High School wishes them well in the national final."
Digital and Creative Industries Minister Margot James said:
"It's great to see even more young women keen to get into the cyber industry with record numbers applying to the CyberFirst Girls competition. "
"Through our initial cyber security skills strategy, we are not only improving our capability in cyber but also boosting the skills of young people. Also, we are creating a more diverse workforce."
Beverley High School will now join teams from nine other schools in the finals which will be held March.