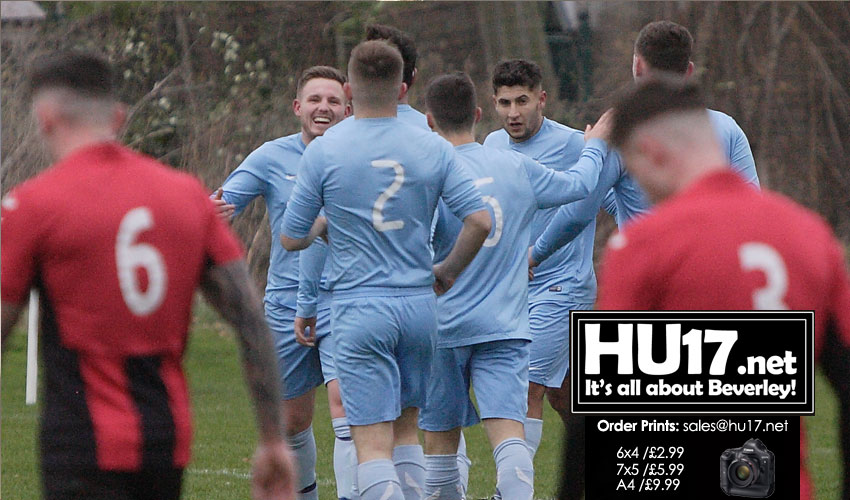 Beverley Town Football Club is second in the Humber Premier League after they beat East Riding Rangers 4-1 at Norwood.
Town went into the game knowing that win by four clear goals would see them top the table. However, despite their best efforts they narrowly missed out.
Leon Dawson and Ryan Saltmer both bagged a brace on a day that conditions made playing football difficult.
Gaffer Rich Jagger was pleased with the result, he was also happy with his side's performance. Speaking after the match he said;
"This was an Excellent result for us. In all, we were missing eight players missing and we still managed to out a great team performance together."
"The lads that came in played really well. Saltmer was excellent again. He scored two good goals, as did Dawson."
"Our Back three were solid and everyone worked for each other hard. While conditions were terrible we still tried to play football."
Beverley Town started the game quickly and was rewarded for their efforts when Dawson opened the scoring. Their lead was further extended by the in-form Saltmer as they went into the break with a two-goal advantage.
Beverley Town Make It Five From Five As They Go Second In Humber Premier League
After the break, Dawson got his second of the match before Rangers pulled on back. Town's three-goal advantage was restored when Saltmer claimed his second of the game.
Jagger can also be pleased with his sides current form, the win on Saturday means they have won their last five in all competitions.
Their form since returning to Norwood has catapulted them right back into the title race. However, Chalk Lane do remain favourites to retain their crown.
The latest victory sees Town move level on points with league leaders Chalk Lane at the top of the Humber Premier League. While Chalk Lane have three games in hand, though they still have to visit Norwood.
Next up for Jagger is an away day as they take on Pocklington Town, the side who are currently placed third. Having recently beaten Pocklington Jagger will and his side will have the psychological advantage going into the match.