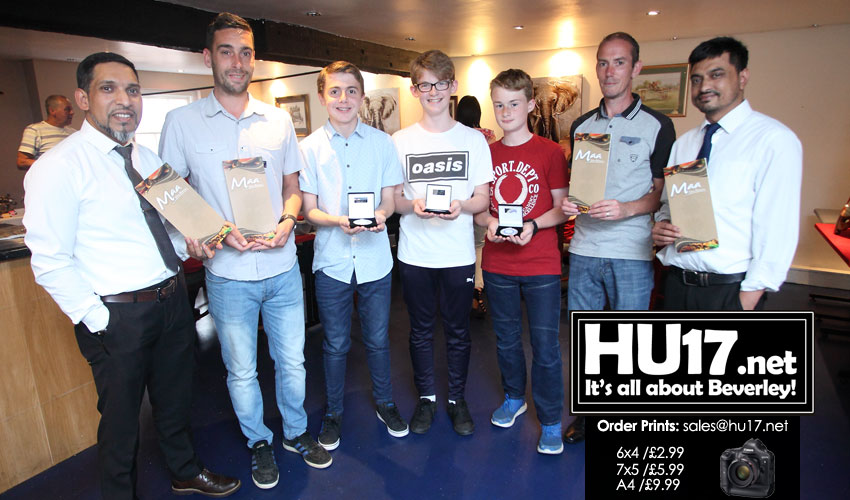 Players from the Humber Colts junior section enjoyed a curry as they held their presentation night at Maa Indian Restaurant in Beverley.
Coach Phillip Matthews held the event at the town centre curry as Maa Indian along with JC Landscapes sponsor the side who finished runners up in their league.
Matthews expressed his gratitude for their support, he said;
"We would like to thank everyone involved with Humber Colts this season which has been a very successful and enjoyable one, we finished second in the league gaining promotion."
James Ayre who most improved player, Tom Kelly who was named managers player, and Jake Gray players player and player of the season were all photographed with the owners of Maa Indian.
Speaking to HU17.net, Taz Ahmed from Maa Indian said;
"Everyone at the restaurant would like the congratulate Phil and his side for the success they enjoyed last season. It was a delight to have them here for their presentation."
"As a business we are happy to be able to support local sport and especially help out clubs so they can provide the young people in Beverley with constructive opportunities."
"We hope they enjoy their summer off and come back next season even stronger, who knows they may go one better and win the title."
Maa Indian Restaurant have been trading in Beverley for 18 months and in that time have supported a number of events and local organisations.
Serving food that is Bangladeshi based, with a fusion of restaurant style cooking complete with traditional home cooked food found in a every Bangladeshi household they have established themselves as best eateries in Beverley.
Sponsorship is key for many local teams and organisations in Beverley who rely on the support of local business to fund everything from pitch fees to training kit.