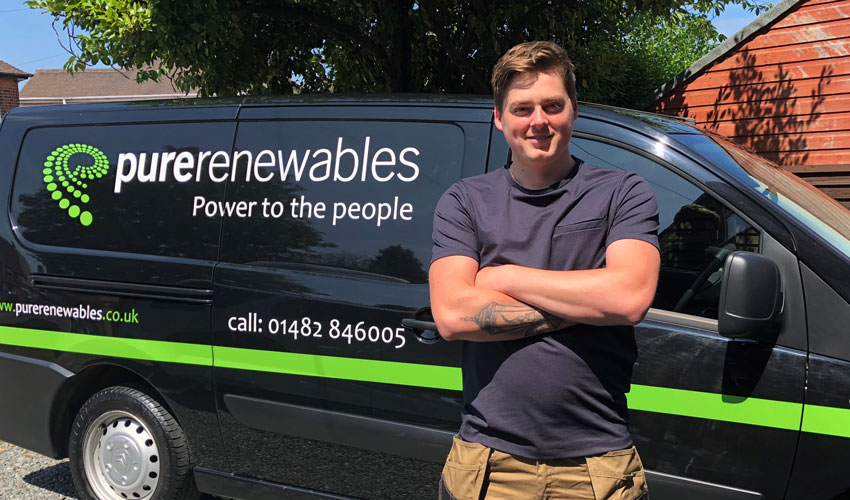 Selected as a regional finalist, Lewis Mower (28) from Hull is one step closer to the final in Screwfix's annual search to find and reward Britain's Top Tradesperson 2018 with the main prize being the keys to a brand new Mitsubishi L200 Warrior pickup truck worth £33,000 OTR.
Championing his trade, he has seen off competition from tradesmen and women across the region and will now attend a regional final on 21 June, going head-to-head against other tradespeople.
Currently trading under the name Pure Renewables, Lewis thinks his determination, passion and attitude will help him stand out from the crowd. He is in with a chance of getting through to the national final, where one person will win the prestigious title and a brand new Mitsubishi L200 Warrior pick-up truck for their business.
Lewis says:
"I'm over the moon to be a regional finalist, it's such a great competition and to get this far is fantastic. It's incredibly rewarding to be recognised for the hard work that I put in, and I'm determined to show my dedication to the trade and my customers."
Lewis focusses on green and environmentally friendly heating systems (Air and Ground source heat pumps). It means he has had to learn new skills and challenge himself to understand how they operate and installation techniques.
He says he takes pride in his work and meets challenges with a head on can do attitude, all while teaching and evolving a trio of apprentices to the best of their ability. He's a real family man and says in his free time he spends a lot of time playing Lego and watching Disney movies!
Caroline Welsh, Director of Brand and Marketing at Screwfix says:
"The standard of entries for Britain's Top Tradesperson this year has been outstanding. This award is given to those who demonstrate that they go above and beyond in their trade. It's for tradespeople who show excellence in how they are adapting to change in the industry, have a positive impact on their community and invest in the future of the trade, showing true professionalism in every job they complete. Being selected as a regional finalist means that we see these qualities in Lewis."
"It's the ninth year we have run this competition and we want to continue to celebrate and reward successful tradespeople from all across the UK that deliver quality work. We look forward to seeing Lewis compete against other regional finalists, and wish them the best of luck!"
Rob Lindley, Managing Director, Mitsubishi Motors in the UK, commented:
"Seeing the quality of this year's regional finalists makes us incredibly proud to be part of this important competition. We can't wait to hand over the keys of a new Mitsubishi L200 Warrior to the eventual winner knowing it will be put to the best possible use – working hard to contribute to the success of another outstanding British business."
Britain's Top Tradesperson is a nationwide search to find and reward the best builders, plumbers, electricians and more, who keep our homes and local businesses in the best condition, often without gaining the recognition they deserve.
Lewis will take part in the Yorkshire heat at Leeds Holbeck Screwfix store on 21 June, 2018.