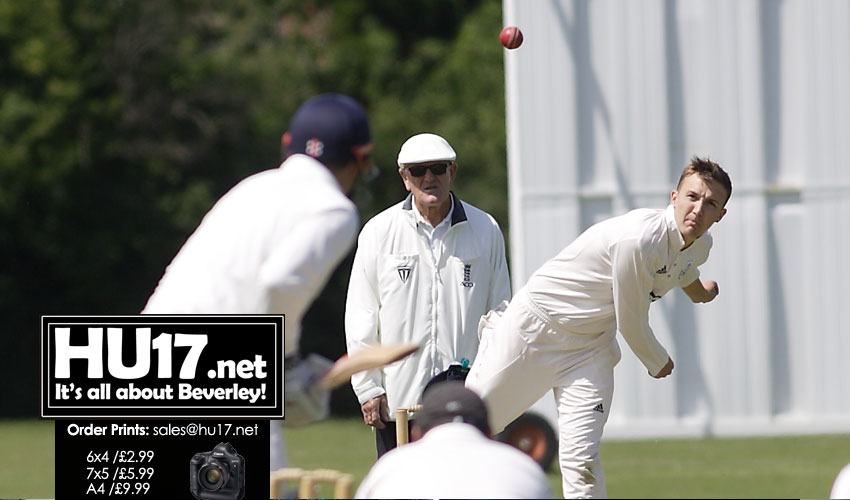 A remarkable series of three close games on Saturday saw Beverley Town Cricket Club lose two and tie one match as the 1st XI were the only Saturday winners with a 4-wicket success at Whitkirk.
The other three teams could all have won with the 2nds and 4ths particularly wasteful in chasing relatively low scores at Norwood.
Bank Holiday Monday was a much more straightforward and productive day as the 1st and 2nd XIs had good wins and the 3rd XI picked up 26 points from a winning draw.
York Senior League
Premier Division
Beverley 1st XI 157 for 6 beat Whitkirk 153 all out by 4 wickets
With the home side at 23 for 5 the decision to insert them looked good for Town but Whitkirk rallied with some stubborn partnerships to eventually close on 153 all out. Kieran Thompson (2-36) and Tommy Haytack (4-27) were the men responsible for wreaking the early damage and Jamie Roe's 4 for 23 closed proceedings. Keeper Mike Cooke took two more catches to make it a dozen dismissals for the season already.
Pete Shally (17) and Harry Gamble (22) had both gone with the total on 48 and it was left to Brad Dobson (32) and Ben Hatfield (42) to take Town most of the way to their target. Despite four wickets falling Cooke (12 no) saw his side home for their first outright win of the league season.
Beverley 1st XI 182 for 3 beat Folkton & Flixton 1st XI 177 for 9 by 7 wickets
Folkton & Flixton won the toss and decided to bat but early wickets for Tommy Haytack and Brad Graham (2-42) reduced them to 26 for 3. Town's bowlers took regular wickets and the home side lost their ninth wicket at 125. Only an unbroken last wicket stand of 52 gave the score some respectability at 177 for 9 against Haytack (2-43), Greg Whyley (1-36) and Joey Franklin (4-39). Mike Cooke made two brilliant stumpings to support his bowlers.
Town lost both openers with 44 on the board and were soon 58 for 3 but in-form Brad Dobson (77 no) and stand-in skipper Olly Grantham (61 no) added an excellent 124 runs to take Beverley home with twelve overs to spare. The 1st XI's unbeaten league run now stretches to five games.
Division 1
Beverley 2nd XI 153 all out lost to Carlton Towers 1st XI 155 all out by 2 runs
Carlton Towers recovered from 21 for 2, wickets to Connor Bowden and Ed Chappell (1-23), to 101 for 2 before a run out allowed Town to take control. The last eight wickets fell for 54 runs to Bowden (2-30), Pete Parnaby (2-45), Greg Whyley (1-43), Joey Franklin (2-9) and another run out.
Town made hard work chasing a modest total and slowly fell behind the run rate. Will Parker (39) top scored as batsmen came and went, often struggling against slow bowling. Hope came in the form of James Emery (16) and Bowden (21) who both scored at more than a run a ball. However when Bowden was needlessly run out and Chappell went in similar fashion Town slipped to 153 all out in the last over on what was a frustrating day for a side who have turned in some good performances this season.
Beverley 2nd XI 218 for 5 beat Goole Town 2nd XI 217 for 8 by 5 wickets
Where Saturday had been a real disappointment Monday brought an improved and confident performance from the 2nd XI despite the fact there was a large number of changes. Goole elected to bat and made good progress against Ed Chappell (1-69) and Matty Saint (1-30). Guy Brumfield, 12 overs for 33 in his first outing of the season, and Pete Parnaby (2-42) slowed the run rate before son Owen Parnaby (4-26) played a major role in restricting Goole to 217 for 8 from their 48 overs.
Promoted Tim Smith (40) and Will Parker (26) gave Town a good start before Will Harrison (18) and captain Rob Fish took up the challenge. Fish went on to make 59 and was out with the score on 188. Alex Nightingale (46 no) then guided his team home with the help of Chappell and the winning runs came with three balls to spare.
Holderness Division 2
Beverley 3rd XI 156 all out lost to Patrington 1st XI 161 for 8 by 5 runs
New signing Richie Singh made an excellent debut for the 3rds at Patrington but could not stop his side losing by five runs. Patrington were in real trouble at 58 for 5 against Matty Saint (3-31) and Craig Foster, who took 3 for 36 on his return to his former club. The home side eventually reached 161 for 8 despite Singh's 2 for 21.
Singh (32) with three sixes and Tom Patey (21) led the charge and six other batsmen made double figures without anyone going on to make a match winning score. Town looked out of the game at one point but some late hitting gave them hope, however two wickets fell in the last over as Town were bowled out for 156 in another tight finish.
Beverley 3rd XI 264 for 5 drew with Newport 1st XI 212 for 7
The 3rds racked up an impressive 264 for 5 at Newport as they were put in to bat and given a good start by Tom Patey (12), Matt Hudson (65) and Ian Pratt (42). Richie Singh (23) and some late order hitting by Rich Riley (46 no) and Brad Benyon (39 no) took Town to their good 45 over total.
Kieran O'Brian struck an early blow and Charlie Bough (1-39) removed the other opener. Singh returned to take 2 for 31, O'Brian (2-80) and Lew Richardson (2-28) as Newport closed on 212 for 7. Keeper Patey took two catches to continue his contribution to the team.
Holderness Division 4
Beverley 4th XI 136 all out tied with Walkington 136 for 5
Beverley 4ths tied a game they should have won easily. Walkington made 136 for 5 with Cook top scoring with an unbeaten 65. Youngster Jacob Hunter (3-12) was the pick of the Town bowlers while Lewis Richardson bowled well to take 2 for 26 from twelve overs and Harry Smith turned in two tidy spells.
With a solid 30 from captain Kev Thompson, supported By James Broekhuizen (17) and Hunter (19), and progressing to 107 for 4 without too much alarm, Town could hardly have been more in control but a series of poor shots saw them lose six wickets for 29 runs, the last in the final over to tie the game. Credit is due to Walkington who stuck to their task and earned their 22 points while Beverley claimed 19 for their efforts. Despite failing to record the win Town stand 14 points clear at the top of Holderness Division 4 after five games.
Under 19s
An unbeaten half century from captain Harry Gamble helped the Under 19s to a last over win against Thorpe Arch & Boston Spa last Sunday. Opener Will Harrison made 19 and the win was completed by Tom Patey (28 no) and Ed Chappell (26 no) as Town overhauled the visitors 154 for 7 with two balls to spare.
Junior Cricket
The junior cricket season is in full swing. The Under 15s have not won a game yet but the Under 13s have won all three of their local games and won in the ECB knock-out . The Under 13B XI are also to get off the mark while the Under 11s have recorded two wins from their three games.