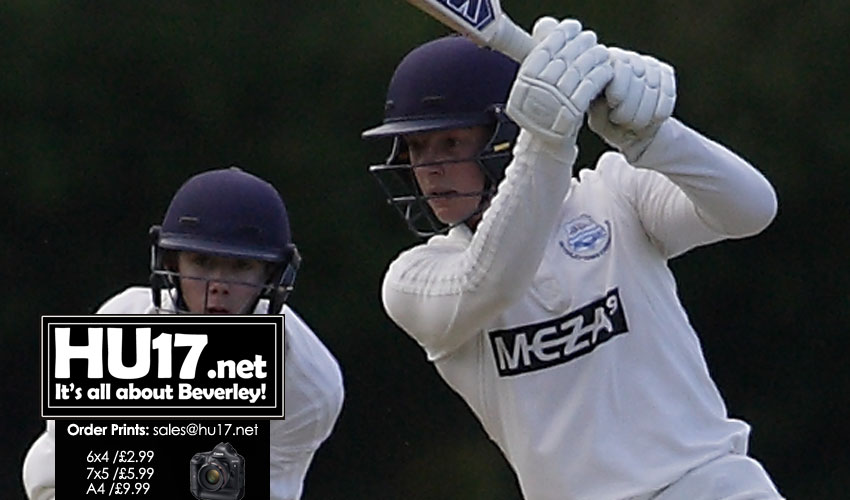 Beverley Town Cricket Club enjoyed another successful weekend as they clocked up wins for the 3rd, 4th and 5th teams and a winning draw for the 1st XI.
Only Beverley's 2nd XI, beaten for the first time this season, failed to record a positive result.
York Senior League
Premier Division
Beverley 1st XI Malton 265 for 4 drew with Malton & Old Malton 1st XI 177 for 9
The 1st XI picked up another 27 points when they entertained Malton & Old Malton at Norwood. Pete Shally (75) and Harry Gamble posted an impressive opening partnership of 151 after Town were given first bat by the visitors. Gamble (104) went on to make his second century of the season while Brad Dobson (67) gave the innings continued impetus with another good knock.
Town knew it would be hard work to take all ten wickets on a very good batting surface and they fell just one short as Malton closed on 177 for 9 from their 50 overs. Matt Turnbull made an excellent 50 for Malton against the best efforts of Kieran Thompson (4-54) and Brad Graham (3-49). Jamie Roe (1-28) and Matt Mudd also turned in good spells without being able to force the win.
Division 1
Beverley 2nd XI 150 all out lost to Sewerby 1st XI 152 for 5 by 5 wickets
Without their heaviest run scorers this season Town struggled on a ground where they rarely enjoy success and went down to their first defeat of the season. Batting first, six Town batsmen made double figures but none went on to make a big score, Ben Fish the best of the innings with 31.
A total of 150 all out in the 45th over was well below par and Sewerby wasted no time in knocking the runs off. Tom Haytack (1-33) and Joey Franklin (1-31) had success fairly early in the home innings but both were expensive. Greg Whyley (2-49) and Pete Parnaby (1-24) also took wickets as Sewerby raced home in 25 overs for the loss of five wickets.
Holderness Division 2
Beverley 3rd XI 235 for 6 beat Middleton & Dalton 1st XI 231 for 7 by 4 wickets
An excellent 83 from Jed Foster, promoted from the 4th XI after a good start at his new club, was the highlight of the 3rd XIs second win of the season. The visitors won the toss and elected to bat on another good surface at Norwood and several good partnerships helped them post a respectable 231 for 7 from their 45 overs. Owen Parnaby (2-16) was the pick of the Town bowlers with Kieran O'Brian (2-67), Ed Chappell and Dave Whitelock also in the wickets. A run out completed the Town successes.
Paul Best (58) and Tim Smith gave Beverley a steady start but it was left to Foster with the support of Tim Fordon (36) to take them to the verge of victory. The winning runs came with just six balls to spare to make it won two, lost two for the 3rds.
Holderness Division 4
Beverley 4th XI 148 for 8 beat Gilberdyke 1st XI 142 all out by 6 runs
A third win in succession came for the 4ths at Gilberdyke. Batting was difficult and a strong Town side were made to work hard. Graeme Taylor (25) and Charles Fish (26) made valuable runs at the top of the innings and youngster Jacob Hunter, with an undefeated 39, along with Dave Parry (28) scored well in the lower middle order. Harry Smith hit an invaluable unbeaten ten as Beverley closed on 148 for 8 from the agreed 40 over allocation.
Lewis Richardson (3-30) spearheaded the Beverley attack and Hunter, in a man of the match performance, snared 2 for 9 from his five overs. Craig Foster, on debut for the club, removed the home lower order with an excellent 3 for 15 as Gilberdyke were all out for 142 with just one over of the match remaining.
Holderness Sunday Conference
Beverley 5th XI 162 all out beat Patrington 3rd XI 140 all out by 22 runs
RJ Thompson (66) and Jack Barnett (25) gave Beverley a great start in their Sunday Conference game at Patrington with an opening stand of 81. Matthew Hudson (34) was the only other batsman in double figures as Town eventually closed on 162 all out, a decent score on a surface that offered both low and high bounce and caused some of the younger Beverley batsmen some concern.
Matt Bloomfield and Tom Smith bowled good opening spells as the home side progressed steadily before Barnett (2-44) made the breakthrough. Tom Barnard (1-11) who also produced a superb run out, and Jared Goforth turned in good spells before Smith (3-34) returned along with Charlie Bough (3-7) to bowl Patrington out for 140.
The 5ths are still unbeaten and with a combination of runs from the senior batsmen and wickets for a youthful bowling attack (six bowlers, average age under 16 in this game) things look promising for them.