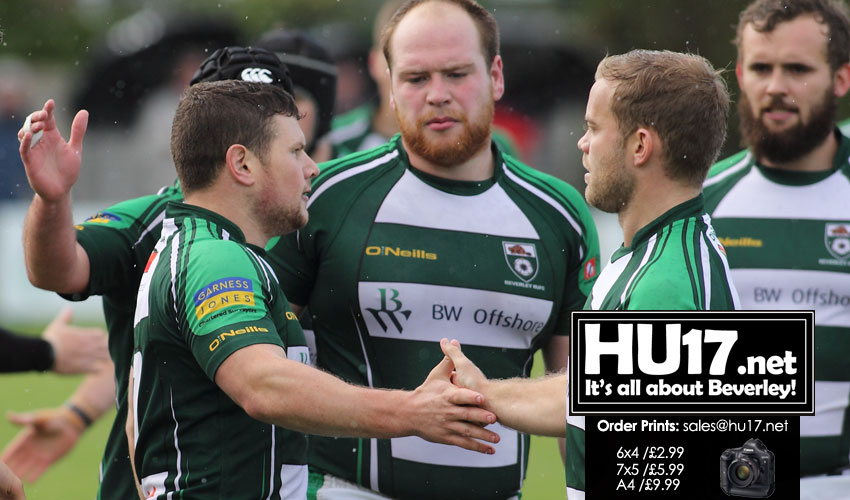 Beverley came out on top against Heath for the third time this season in a bruising encounter at North Dean, Halifax, to maintain their second position in the league and put a dent in Heath's promotion ambitions.
The dreadful weather conditions prevailing did not suggest the prospect of much flowing rugby and so it turned out with the result that we saw a dour contest largely played out between the two forward packs.
After 5 minutes Beverley were penalised in their own 22 and Ezra Hinchcliffe duly kicked the goal to give Heath a 3-0 lead. Beverley replied 5 minutes later through a Phil Duboulay penalty (3-3) but Heath immediately hit back when Beverley failed to contest a kick through from Jordan Bradbrook who followed it through to touch down (8-3).
Back came Beverley and some surprisingly slick handling amongst the backs opened up a gap in the Heath line allowing Will Turnbull through to touch down for a try which Phil Duboulay converted (8-10).
Play settled into a mid field slog for the remainder of the first half until, on the stroke of half time, Beverley were awarded a penalty which Phil Duboulay duly converted (8-13).
The second half began again with both packs figuring in a mid field battle. This suited the much bigger and physical Heath 8 much more than Beverley and, inevitably, the pressure told and Heath scored a pushover try which was converted to give them the lead.(15-13).
20 minutes to play and both sides looked to be tiring but everything was still to play for Beverley looked to be the fitter of the two sides and with 5 minutes to go Phil Duboulay kicked a penalty to re-take the lead 15 points to 16.
Heath made a mess of the drop out but instead of having the kick retaken Beverley elected to have a scrum which was surprising since they had hardly won a scrum in the second half.
Inevitably Heath won this and kicked to the corner. Then came yet another poor decision when, against a much bigger pack of forwards and 2 metres from their own line, the Beavers chose to throw to the back of the line, lost the lineout and had to concede a penalty which was kicked to allow Heath to retake the lead 18-16 on full time.
In stoppage time Beverley pressed down the left hand side of the field, into a boggy area. The ball came back to Phil Duboulay who had positioned himself to attempt a drop goal. The ball sailed through the posts to seal a memorable victory for the Beavers by 19 points to 18.
For Beverley Isaac Keighley at No 8 had an outstanding game behind a game set of forwards which were heavily outweighed and travelling backwards at a rate of knots most of the time, but he cleaned up everything that came his way.
Final Score : Heath Rfc 18 V Beverley RUFC 19 | Reported by Malcolm Cunningham