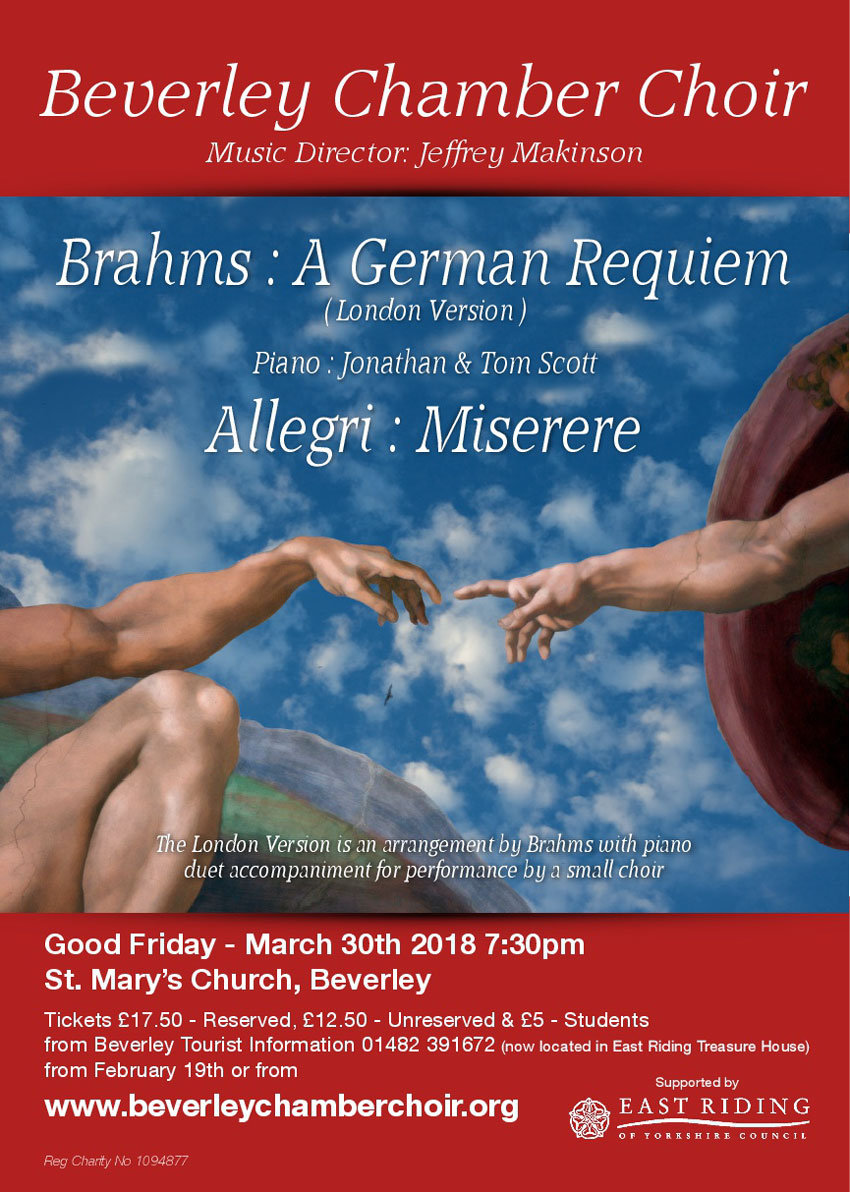 Beverley Chamber Choir, directed by Jeffrey Makinson, will perform Allegri : Miserere and Brahms : A German Requiem on Friday 30th March in St Mary's Church Beverley
Beverley Chamber Choir has a reputation of presenting choral concerts to the highest standards. The Good Friday Concert will see the choir joined by Soprano : Eleanor Garside and Baritone : Robert O'Connell and the Piano Duo : Jonathan and Tom Scott.
Both the Allegri Miserere and the German Requiem are well known pieces. A German Requiem will presented in the London Version. The London Version is an arrangement by Brahms with piano duet accompaniment specifically for performance by a small choir. The choir will be joined by the famous pianists Jonathan and Tom Scott for this performance.
Brothers Jonathan and Tom Scott perform in instrumental combinations which cover the entire keyboard spectrum including Piano Duet, Piano & Organ and Harmonium & Piano.
They have performed at all of the major UK concert halls, and at venues throughout Europe, South America and the Far East as well appearing as guest solo pianists for English National Ballet's UK tour of 'Strictly Gershwin'.
Their entertaining programmes, presentation and dynamic performing style have earned them great acclaim and many return visits.
The concert will take place on 30th March at 7.30pm in St Mary's Church Tickets are now on sale priced at £17.50, £12.50 and £5 students.
Tickets are available from Beverley Tourist Information 01482 391672 or online from www.beverleychamberchoir.org