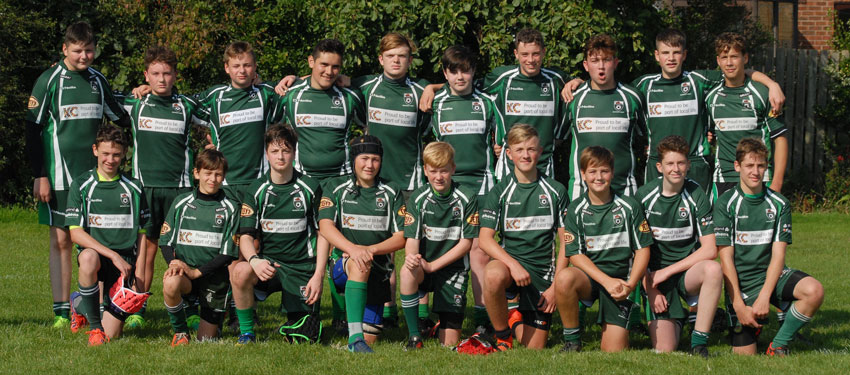 Beverley RUFC Under 15s returned to action with a solid victory against local rivals Pocklington at Beaver Park.
Boosted by the return of long term injured players of Sam Acaster and Tom Barnard they put in a solid performance to overcome an improved Pocklington team.
Pocklington took an early advantage converting a penalty in the first few minutes, but Beverley then took control of the game, fluid handling from Adam Skeates, Nathan Cullen fed winger Harvey Baron who outpaced the visitors defence to sprint half the pitch and score the first try of the day, Alex Nuttall converted the difficult kick to add the bonus points.
Pocklington did have a significant amount of the ball but the Beverley defence was again strong and did not allow the visitors to make any ground.
In the second half, Beverley increased the tempo of their performance and generally dominated the game, defence was solid and again some quick and slick ball handling gave Cullen the opportunity to score, converted by Nuttall.
Pocklington did have opportunities but these were generally closed out by the home team, as the half progressed the game opened up and again good support running and passing allowed Harrison Petrie to claim his first try of the afternoon.
A final try came when a quick penalty near the Pocklington line was powerfully driven over by Petrie and then again converted by Nuttall.
Over all this was a solid performance by Beverley, but it did at times lack intensity, this was due to the long lay off the team has had and a satisfactory game and result.
There was some excellent movement of the ball and defence was again strong, the team will soon be back to a higher level of performance over the coming weeks.
Man of the match, selected by the referee, went to Harvey Baron who look likely to score with every touch.
Final Score: Beverley RUFC U15s 26 Pocklington U15s 3