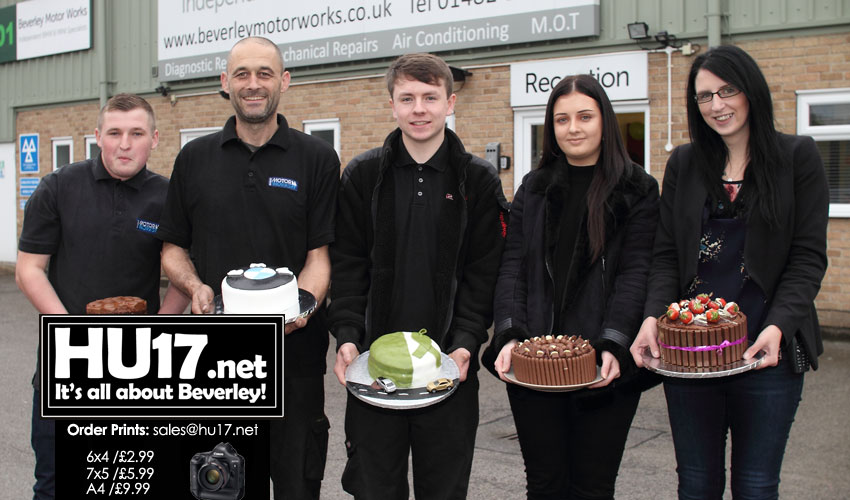 Staff at Beverley Motor Works raised £140 for Macmillan after they held an internal bake off competition and coffee morning.
More used to fixing cars, the staff at the firm who are in specialists in BMW and Mini proved they are equally as good serving up a sweet treat in the kitchen.
Alan Lewis, Leanne Doyle, Paul Rowley, Paul Crombie, John Lee Brown and Jenny Stillings all produced fine cakes though there could be only one winner on the day.
Richard Hayes at Beverley Motor Works was given the tough task in picking the eventual winner, Paul Rowley.
Commenting on the event and effort staff went to Mr. Hayes said;
"It was a great effort by the full team, star baker was Paul. He produce a cake that was decorated as a BMW logo which just melted in your mouth."
"We got involved as a business as we wanted to raise money for Macmillan as at some point we have all been affected by the work that the charity does or know one someone that has benefited."
"Mcmillan, as a charity is something that is very close to us as a business. It was also a great opportunity to see how the team use spatulas rather than spanners!"
"Overall with the great effort from the team and the support by our loyal customers we raised a grand total of £140."
A key fundraising event, the Macmillan Coffee Mornings see people from all over the UK host their own days in work places, village halls and to raise much needed cash.
Macmillan last year alone raised £29.5 million through the coffee morning incentive, a figure they hope to have beat this time around.
To find out more about Beverley Motor Works please visit www.beverleymotorworks.co.uk