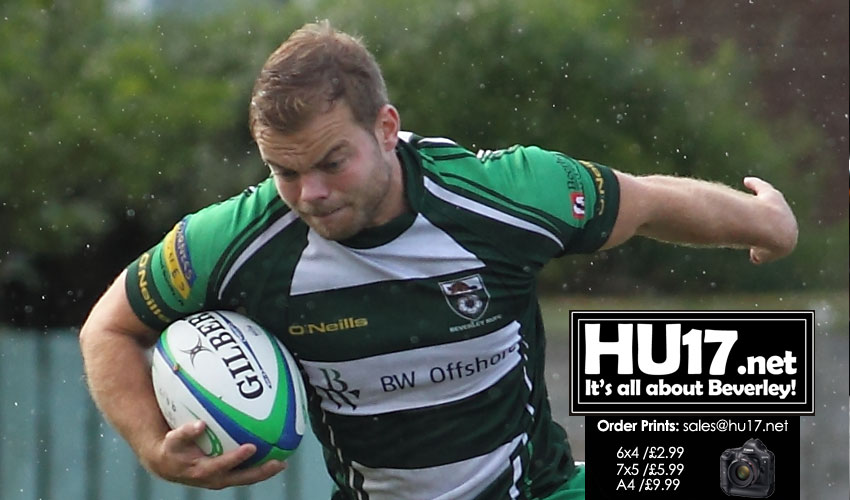 Beverley came under pressure immediately after losing the kick-off and Rishworthians camped in Beverley's 22. After 9 minutes they were awarded the inevitable penalty and Josh Kelly made the score 3-0 to the home side.
The pressure continued and things looked ominous for the Beavers when Rishworthian's tricky young winger Joe Billing sliced through for an excellent try which Josh Kelly duly converted to make it 10-0.
Eventually Beverley started to gain some possession of the ball although poor handling and kicking let them down frequently. After 20 minutes they were awarded a penalty which the ever reliable Phil Duboulay kicked to reduce the arrears to 10-3 but 2 minutes later Josh Kelly replied with a penalty for Rishworthians to make it 13-3.
Beverley were still under pressure to gain and keep some possession against Rishworthians' powerful forwards and were not helped by their continuing poor handling and home sides strong tackling.
However Phil Duboulay did manage to peg the score back with a penalty on 27 minutes during one of Beverley's rare visits to the home side's half (13-6).
Two minutes later came a game changing moment when Rishworthians' influential No 8 Nick Faulkner and was yellow carded for a dangerous no arms tackle.
A man down in the scrum and Beverley were able to take advantage. They were able to secure much more of the ball now and on 34 minutes flanker Steve Wighill went over for a try which Phil Duboulay converted to level the scores at 13-13.
From the restart Beverley moved into another gear and 2 minutes later Will Turnbull scored a fine try in the corner to give them the lead for the first time. Duboulay again converted and half time came with them leading by 13-20.
The second half began in similar style to the first with Rishworthians pressing the Beverley line and the referee finally awarded them a penalty try which Kelly converted to level the scores at 20-20.
Beverley were now very much back in the game and two Luke Hazell tries in the 60th and 70th minutes ,the second converted by Phil Duboulay gave them a lead of 20-32 and secured the bonus point.
Rishworthians hit back with a fine try from the ever elusive winger Joe Billing (25-32) but Beverley rounded off a fine afternoon with two tries from Will Harrison to make the final score 25 – 42.
The match was played in a good spirit throughout, in glorious weather in a fine setting.
Next week Beverley play local rivals Hullensians at Beaver Park in the 3PM kick off.
Final Score: Old Rishworthians 25 Beverley RUFC 42