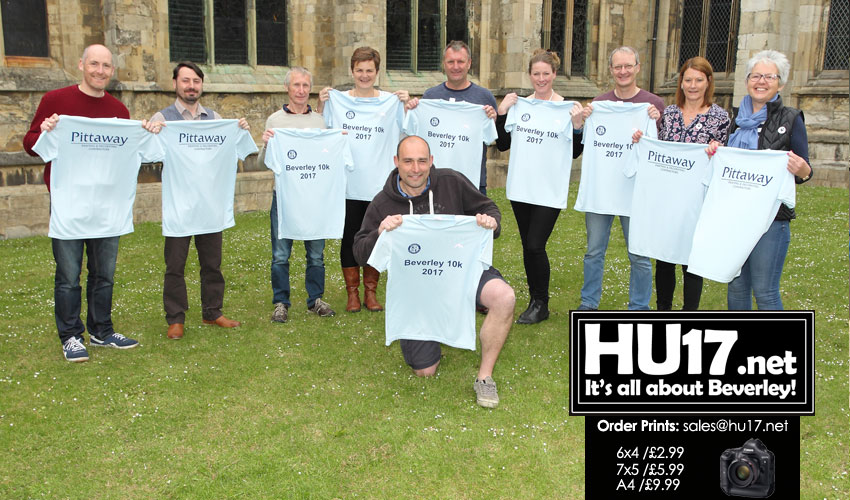 Next Sunday will see the Beverley 10K take place, an event that brings hundreds of runners from around the region into the town.
This year there is a new sponsor as Pittaway, a family business, take on the responsibility for sponsoring the event.
Managing director of Pittaway, Graeme Pittaway was joined with members of the local running club to unveil the shirt runners who complete the course will receive.
Mr. Pittaway who is a keen runner himself and has been a member of Beverley AC for around 9 years will be taking part in the race with a few of his colleagues.
The Pittaway Beverley 10K is organised and marshaled by the Beverley Athletic Club and widely regarded as one of the highlights in the running calendar.
For many runners, it gives them the opportunity to run in what the club say are fabulous surroundings in their home town.
While many will just be happy to finish the race, the overall fastest finishing time has stood the test of time for over 20 years.
Andy Lyons holds that record after completing the course in an incredible 30:17 – a record that has stood unbeaten for the past 21 years. The ladies' record is equally impressive, set seven years ago at 34:54 by Lizzie Adams.
Taking place on Sunday 14 May, over 1,500 runners will tackle the course that many runners say is very challenging given the hilly terrain.
Last year's Beverley 10K was won by Kris Lecher from City of Hull AC in a time of 32:44 with Carla Stansfield from the same running club winning the ladies race in a time of 37:52 finishing 27th overall.
Ahead of the main event there will be a fun run at the Beverley Leisure Centre which is popular with the younger generation and families.
During the event, which starts at 11.15AM there will be temporary road closures with motorists being warned ahead of time about possible delays.