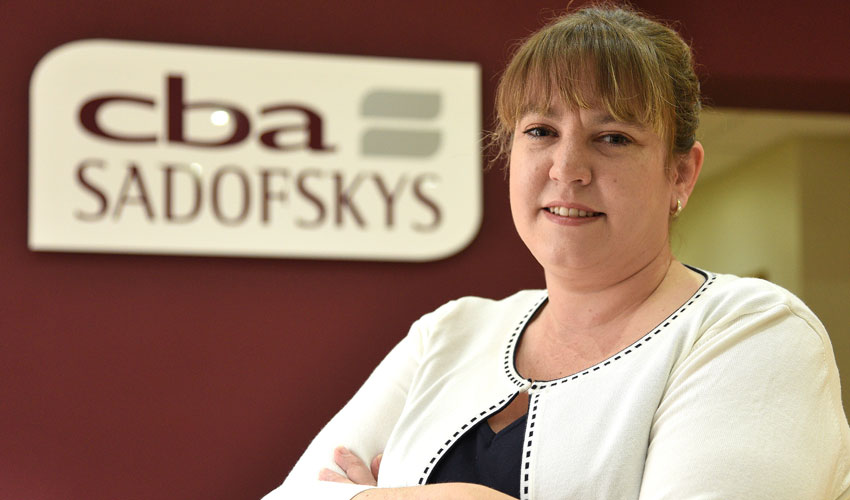 Leading Beverley accountancy firm cbaSadofskys has appointed Katy Booth as its new Head of Corporate Finance.
Katy joins cbaSadofskys from an independent York-based practice, where she has been a Corporate Finance Associate since 2010. In addition to this role she acted as lead advisor on a large client portfolio of businesses, including UK SMEs, small groups of companies, LLPs and partnerships.
Katy has vast experience in corporate finance and has specialised in business valuations, mergers and acquisitions and business sales and restructures. In the last twelve months, she has undertaken three due diligences for transactions valued between £1 million and £5 million, and has guided on two further business sales, raising capital of over £2 million.
cbaSadofskys was formed in May 2015 following the merger of Hull-based Sadofskys Chartered Accountants and Beverley-based cba Chartered Accountants. Sadofskys was formed in 1972 with the two organisations boasting more than 60 years in business before coming together. As well as traditional financial services such as auditing, accounting and tax, the firm provides specialist advice on integrated business strategy, consultancy and access to corporate finance.
cbaSadofskys boasts a 70-strong team and is one of the region's leading independent chartered accountancy practices.
On the appointment of Katy Booth, Alan Brocklehurst, managing director at cbaSadofskys, said: "I am delighted to be welcoming Katy to cbaSadofskys, where she will become a key figure in our corporate finance team. Katy brings with her an extensive network of contacts in the Yorkshire region from her previous role and boasts a fantastic track record as lead advisor on many high-profile acquisitions for her clients.
"Since forming, cbaSadofskys has significantly developed its client base and we now operate across many sectors, including construction, retail and manufacturing.
"We are focused on further enhancing our reputation as an experienced adviser in the corporate finance market and Katy's appointment will help drive this. Our wealth of experience in the region has helped us grow and we are now recognised as one of the key practices in Hull and the East Riding of Yorkshire."
Alan added: "This is an exciting time for cbaSadofskys as we strengthen our senior team to cement our position as one of the regional leaders in this competitive industry. We will continue to work closely with our clients to provide them with first-class accountancy, auditing and tax advice and ultimately we will help them to save money."
Katy said: "I am delighted to be joining such a progressive accountancy business and I am excited about the opportunity ahead. I am really looking forward to helping the organisation to continue adding and creating value to people and organisations seeking financial support as well as helping cbaSadofskys to grow and prosper."
cbaSadofskys has offices in Lairgate, Beverley and in Wright Street in Hull. The practice delivers holistic financial services to more than 1,000 clients, from business start-ups to retirement and beyond.