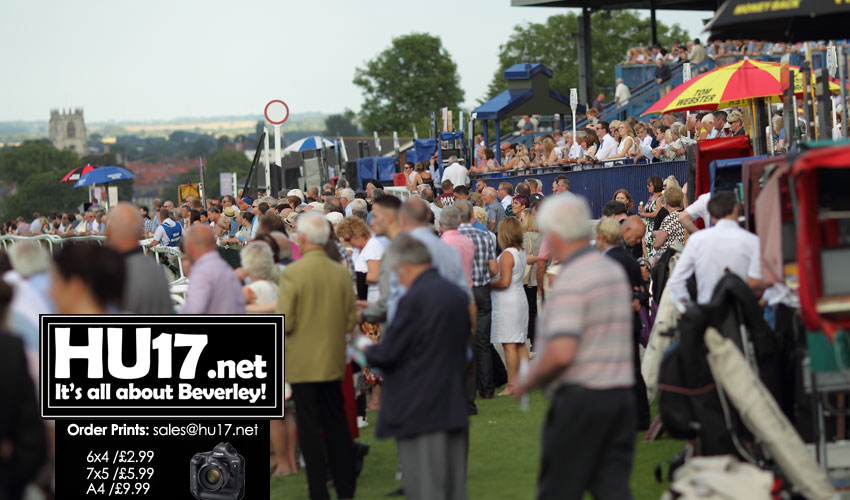 Beverley Racecourse have released their fixture list for the new season that gets under way in with The White Rabbit in Easterland Raceday.
Between April and September Beverley Racecourse will host 20 fixtures that will be a blend of day time and evening meetings.
Commenting on the new season Kate McKee, Marketing Executive at Beverley Racecourse said;
"Plans are well under way for another cracking season. Pre-booking will be the big way to win at the course this year with some prices even less than in 2016 when bought in advance."
"We love to put extra entertainment on for our themed days, and this year will be no exception with some really fun new events. There's the family themed White Rabbit day on the 16th April with an interactive Alice in Wonderland themed Easter Egg hunt created by East Riding Theatre, along with chocolate workshops from White Rabbit Chocolate."
"We'll also be bringing LA's legendary 70's night Bus Stop to the racecourse at our evening meeting on the 20th June. It's fair to say everyone attending is going to have a blast with the season we have planned."
The ever popular Beverley Races Ladies Day will take place on 16 August while there are three evening meetings, each with their own unique theme scheduled on the list.
Tickets for 2017 season can be purchased now online through the Beverley Racecourse web site.
Beverley Racecourse Full Fixture List For 2017 Season
Weds 19 April The White Rabbit in Easterland Raceday
Thurs 27 April Afternoon Racing
Mon 01 May May Day Raceday
Tues 16 May Afternoon Racing
Wed 31 May Half Term Raceday
Sat 10 June A Very British Raceday
Tues 20 June 70s Racenight Feat: Bus Stop (Evening Fixture)
Tues 27 June Afternoon Racing
Fri 07 July Party on the Pasture Racenight (Evening Fixture)
Sat 08 July The Big Saturday Raceday
Tues 18 July Afternoon Racing
Mon 24 July Carnival Racenight (Evening Fixture)
Tues 01 Aug Roll Up, Roll Up Raceday
Weds 16 Aug Ladies' Day
Thurs 17 Aug Afternoon Racing
Feat: The Camel Derby
Sun 27 Aug A Sunday Hop
Sat 02 Sep Totepool Beverley Bullet Raceday
Weds 20 Sept Afternoon Racing
Tues 26 Sept Season Closer