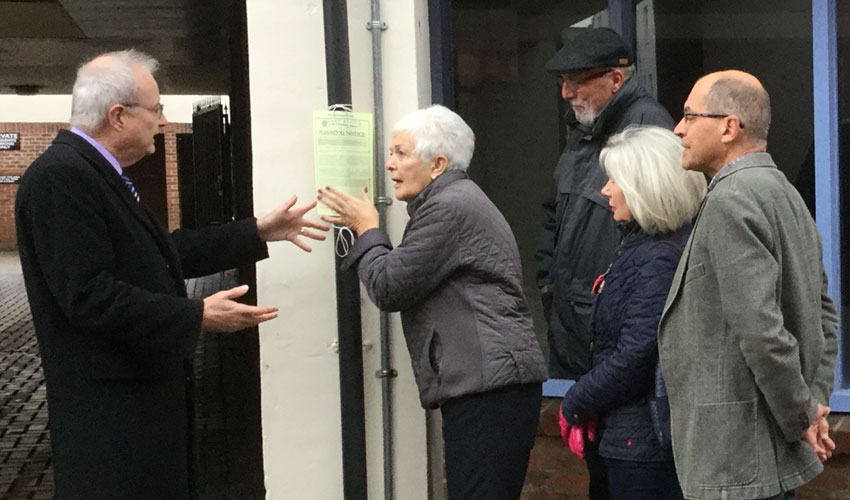 Councillor, Denis Healy, is in discussion with Beverley Town Centre residents who are objecting to having their lives blighted by what they see as the ever encroaching night time economy in Beverley.
The issue has erupted following an application to change a former ice cream parlour on Sow Hill Road into a "restaurant" with permission to hold regular parties.
Local residents living in Globe Mews on the opposite side of Sow Hill Road, and on Sylvester Court directly above and behind the establishment, have asked their newly elected councillor to support them in their quest for a quiet life.
Resident Bernard Norris said;
"This is supposed to be an application for change of use into a restaurant, but one look at the application with its photos, plans and sample menu is all that's needed to see that this isn't going to be a restaurant but a cafe bar."
"How can it possibly be classed as a restaurant when there isn't even a kitchen?"
"The residents are also very concerned at the applicants' proposals to hold parties at the venue, and there is a very real threat to our quality of life through late night disturbance, outside smoking and drinking and loud music."
"This is a retail unit with no proper sound proofing, and people living directly above and adjacent to it are going to suffer massive disturbance."
Cllr Healy had wanted the matter to be referred to the Council's Eastern area planning committee, but has been told by officers that this is a "Prior Approval" application, which means that the decision is delegated to Council Officers without elected Councillors having a say.
Cllr Healy said:
"We all accept that Beverley needs a vibrant night time economy, but should this be restricted to the central strip between Wednesday Market and North Bar?"
"Residents say this application is an encroachment of a potential late night drinking establishment into a residential and commercial area, and they are asking the Planning Officers to think of their quality of life before approving this application in its current form."
"Beverley's historic town centre is a careful blend of leisure, retail and residential elements, and it's important that a careful balance is maintained."
"Having planned over the last two decades for town centre living, residents are saying they should be able to enjoy their homes in peace."
"I am interested to hear the views of the wider Beverley public as to whether they think Beverley's cafe culture has gone too far, or whether they see this as progress in a rapidly expanding market town?"