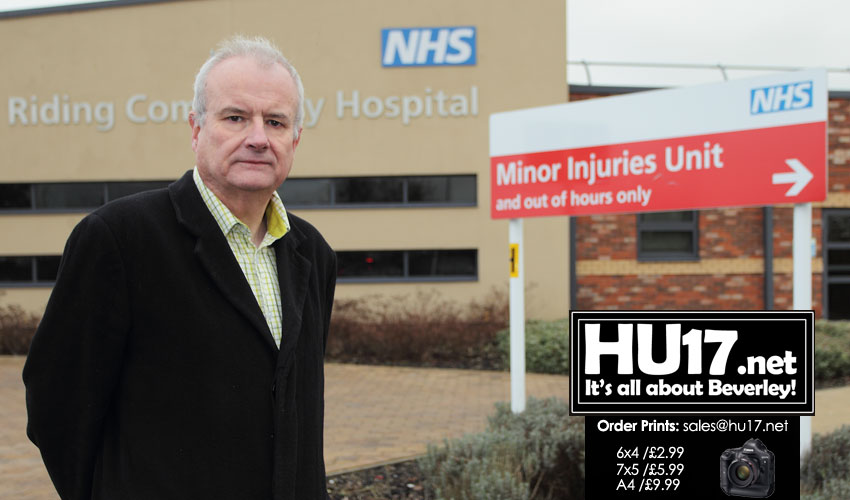 Cllr Denis Healy says he never expected to see a slanging match between local politicians and the MP Graham Stuart.
The newly elected Liberal Democrat Councillor for St Mary's Ward in Beverley was speaking after the protest that was arranged to highlight the possible closure of the East Riding Community Hospital.
Speaking to HU17.net he said;
"For me, the main purpose of today's rally is to raise awareness of the CCG proposal, and to encourage people to make their voices heard by responding to the consultation."
"One of the options in the consultation document is to close the Community Hospital in Beverley, and for as long as that idea is on the table, we cannot assume it won't happen."
"That was why I was there as the ward Councillor for this hospital. We must never be complacent, and take every opportunity to make our views heard."
"It's a shame that other politicians in our town had a different view of today and chose the occasion to play political football with our NHS."
"I hadn't expected to see a political altercation today involving a slanging match between a group of Labour and Socialist Worker activists and our local MP."
"I think most Beverley residents would have taken a dim view of that if they had been here to see it."
Medical centres in Driffield, Hornsea and Withernsea are all set to be axed while Beverley, Bridlington and Goole are all in the running to get better enhanced services.
East Riding of Yorkshire Clinical Commissioning Group are in the middle of a 12-week formal public consultation for improving urgent care services in the East Riding of Yorkshire, which will run until 17 January 2017.
The final decisions will be in made in March 2017 when the group will confirm which of the four options they will take.