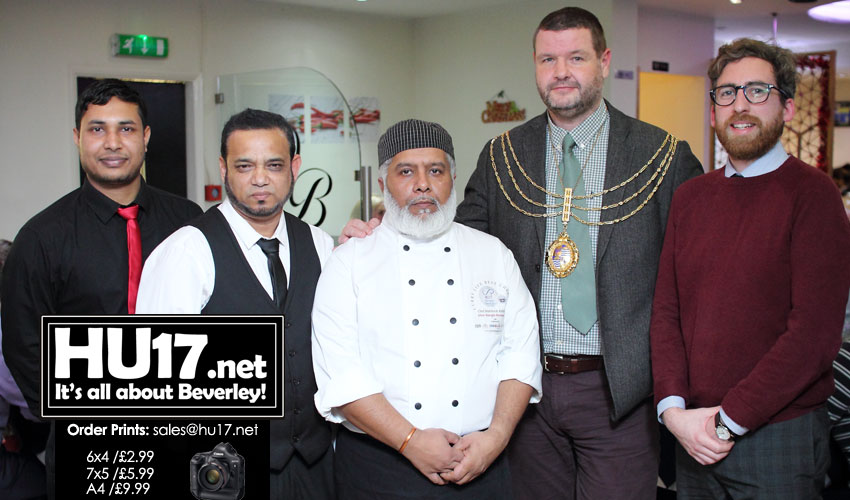 Dine Bangla held a celebration evening where they invited their customers and the Mayor of Beverley, Cllr Robert Begnett to join them for a complementary meal.
The Wednesday Market restaurant were celebrating the success of their chef Mahboob Rahman, who won the Curry Life Magazine Best Chef 2016 award.
After the meal people were ask to make a donation at their discretion with the funds raised being donated to Dove House Hospice.
Speaking about the evening Cllr Begnett said;
"It's great to be able to celebrate another food success in Beverley, building on its growing reputation as a varied and quality watering hole for locals and visitors alike."
"Mahboob obviously deserves his regional Chef of the Year award."
"I'd particularly like to thank Mr. Islam and his team for being so generous as to share their celebrations by hosting a fundraiser for Dove House. A great evening was had by all."
Jethro Shearring, Fundraising Coordinator at Dove House expressed his gratitude at the generously shown by people as donations exceeded £600, he said;
"The fundraising evening was a huge success and £625 was raised for Dove House, for which we cannot thank the staff and customers enough."
"At Dove House Hospice we are completely reliant on the generosity of local businesses such as Dine Bangla to continue to provide end of life care, free of charge, to the community."
"Dine Bangla have kindly supported the hospice in the past and in deciding to hold a celebration evening in recognition of their award winning head chef, the owner Ash Islam very kindly approached us to make the hospice a part of the evening as well."
"The staff all worked extremely hard to make the event an unqualified success and we were so pleased to see the generosity shown by everyone involved."
" It costs £6.7 million a year to run the hospice with the equivalent of only 41 days government funding."
"The money raised will help ensure that we can continue to be at the forefront of palliative care in Hull and East Yorkshire, allowing us to make a positive difference to our patients and their families throughout Christmas and beyond."