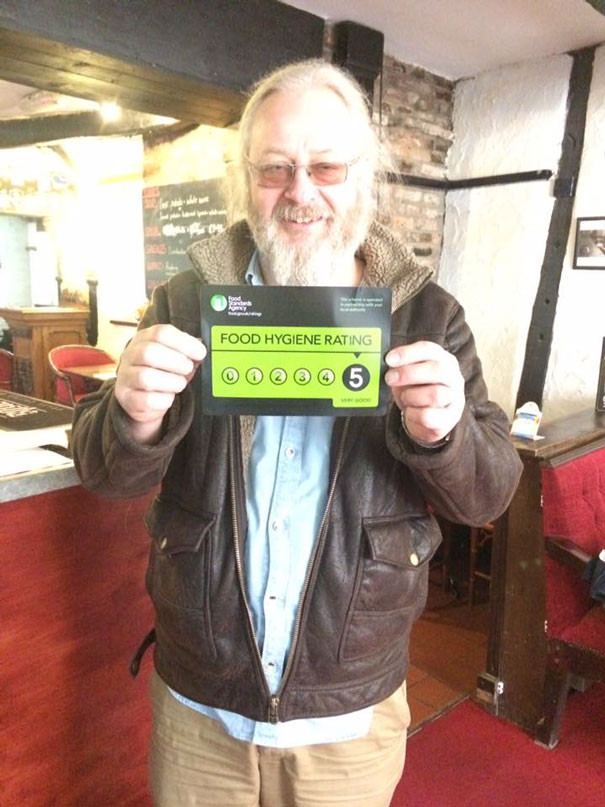 Monks Walk pub in Highgate has celebrated gaining a Level 5 standard for Food Hygiene, at its first attempt.
Landlord Neil Pickford, former virger at Beverley Minster, said this highest-level grade was the result of a lot of hard work by several dedicated staff and family.
He said;
"When we took the building over in April this year it only rated a level 3, which just wasn't good enough for us."
"We sought the advice of the Food Safety Officers in East Riding Council and they were very helpful indeed."
"We stripped out most of the old equipment and tiles, scrubbing clean (several times!) what was left, then retiled and fitted new equipment throughout. We put in proper washing and
cleaning areas and followed best practice wherever we could – and it's paid off."
"I must give tribute to everyone involved with the project, and especially to our cook, Ian 'Chilli Devil' Ibbetson, who looks after everything on a day-to-day basis and keeps everything properly organised and scrupulously clean."
Neil hopes that this recognition of the pub's efforts will encourage more people to sample the growing menu on offer, available seven days a week, from noon through to last orders at 7.45pm (3.45pm on Sundays).
The kitchens now supply a range of hot and cold traditional foods as well as more spicy creations from Ian's own 'Chilli Devil' operation, all made with the best fresh, locally-sourced ingredients. Home-made pies, pastries and sausage rolls have recently been added to the cold snacks range along with cheese platters.
Monks Walk is also taking bookings for two and three course Christmas dinners, being served from Wednesday 30th November through to Thursday December 22nd. Prices start at £19.95 for two courses and all ingredients will be freshly made on the day.
Telephone 864972 or 07432 400 282 for further information or visit monkswalkinn.co.uk