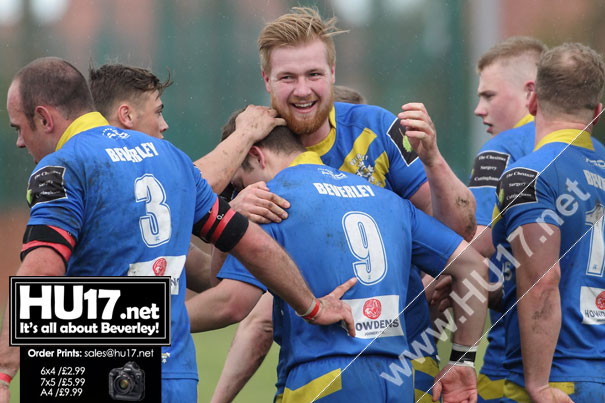 This very well disciplined performance last Saturday at the Beverley Leisure Centre saw the blue and golds come through a punishing schedule of three games in eight days.
The victory ensured that they took five points from a possible six in the spell and allowed them to leapfrog their opponents into third place. The next first-team game is now August 13th away to Hull Wyke and some weary limbs will now get a rest.
The South Yorkshire outfit brought a bulky outfit to town and as in the two side's previous meeting, attempted to steamroller their way through the opposition. This time around the home side seemed to have all the answers in defence and at the same time played some attractive football when in possession.
An early sortie into the visitors 20 bore fruit. Some slick handling with Ryan Davaney and Jack Humphries seemingly running the show, saw Liam Frenneaux dive over in the corner after five minutes.
Josh Poskitt added the goal and also a penalty in the 15th minute for an 8-0 lead. A handling error as Toll Bar were running the ball away from their own line saw a dangerous set of six for the hosts. They took advantage and Ryan Davaney's show and go saw him cross the line for Poskitt to convert.
Toll Bar then countered and camped out in Beverley's 20 for while but the home side's line remained intact. Moments later, the cue came for what might have been a spectacular try.
Billy Riby broke from near his own line 60 meters up-field, got a pass away to Glen Anfield but Anfield return pass went to ground. Moments later, it was the visitors turn to attack and a dangerous chip ahead was well dealt with by Billy Riby.
As half-time fast approached Beverley again got the scoreboard moving. A rampaging run from deep by Alex Calvert saw him send Glen Anfield away to score. Poskitt added the extras and also a penalty right on the stroke of the interval for a 22-0 lead.
Five minutes into the second half Beverley's lead became unassailable. Lee Radford's break up-field saw him pass to Glen Anfield and cheeky reverse pass from Anfield sent Liam Frenneaux over.
Poskitt converted, and the home side were now going in for the kill. Jack Humphries's stepped his way into the clear found Radford whose pass found Anfield. Anfield just lost out to sheer weight of numbers on the Toll Bar line as it was all hands to the pump for the visitors.
Moments later Dean Armstrong pulled back a converted try for Toll Bar. Then Liam Frenneaux completed his hat-trick after which Gareth Carey pulled back another score for Toll Bar. The visitors, then aided by some penalties started to exert more pressure on Beverley but to no avail.
A dangerous looking attack by them saw them lose possession. Jack Humphries pounced on the ball broke away to send the lethal Glen Anfield in the clear. Poskitt again converted and added a try of his own as the final whistle blew. He converted his own try for a personal point's tally of 20. Man of the match was Ryan Davaney.
Pat Howdle and Scott Taylor again pleased with the afternoon's work, urged the players to just to keep it going for the remaining four league fixtures and hopefully going into the top-four play-offs.
Final Score : Beverley ARLC 44 Doncaster Toll Bar 12 | Reported by Nick Robinson