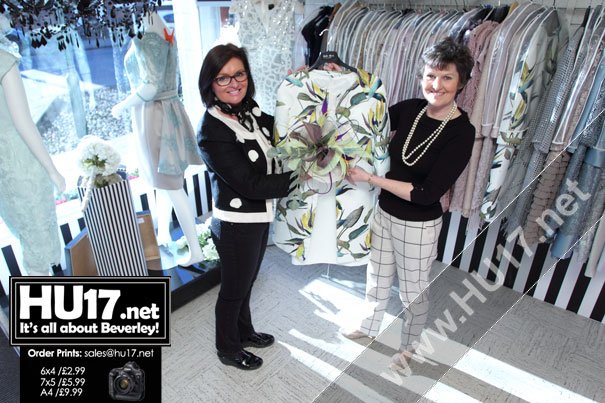 Trading in the Georgian Quarter of Beverley, local ladies boutique The Beverley Dresser has undergone a few changes since the business was taken over by Mandy Buchanan.
In July 2015, Mandy purchased the business and has slowly been making her own mark on the shop as she looks to continue to build on the success of the previous owner.
Selling on behalf customers and working on commission, The Beverley Dresser not only sells pre-loved ladies clothing and accessories but also a selection of brand-new dresses and occasional wear.
Speaking to HU17.net Mandy explained how she is linking up with other business owners, she said;
"What I'm trying to do is to create a small business network that supports other local people and local businesses within the ladies' fashion industry."
"At The Beverley Dresser, I currently work with local designer Joanne Perkins from Amore Headwear, and also I work closely with Claire O'Neill who runs a bridal business called The Day at Wednesday Market in Beverley."
"In-store at the moment we have a selection of new mother of the bride outfits which can be fully accessorised from top to toe."
"We are the only shop in Beverley that specialises in this type of occasion wear and by working closely with Amore Headwear, we are able to provide fully bespoke hats to complement the outfits perfectly."
At The Beverley Dresser, they also have a selection of new prom dresses that start from just £75, Mandy added;
"Prom season is here and girls are already coming into The Beverley Dresser to choose a dress that they wish to wear for what will be their biggest occasion of the year."
"We have a selection of gowns that are all brand-new and are in a range colours and designs that are worthy to grace any ball this season."
Mandy feels that more needs to be done to promote the Georgian Quarter in Beverley to get people to come and see local independent retailers, she said;
"As we are on the edge of the town we have to do more to get people to come visit us here."
"I think it's really worth the walk from the centre of Beverley as the shops we have here in the Georgian Quarter are all very unique."
"Once we get people to the Georgian Quarter I am sure they will continue to visit us as they will certainly like range of independent shops that we have this part of the town."
The Beverley Dresser is open from 10 till 4 PM Tuesday through to Saturday, anyone wishing to arrange a private appointment can do so by contacting Mandy.