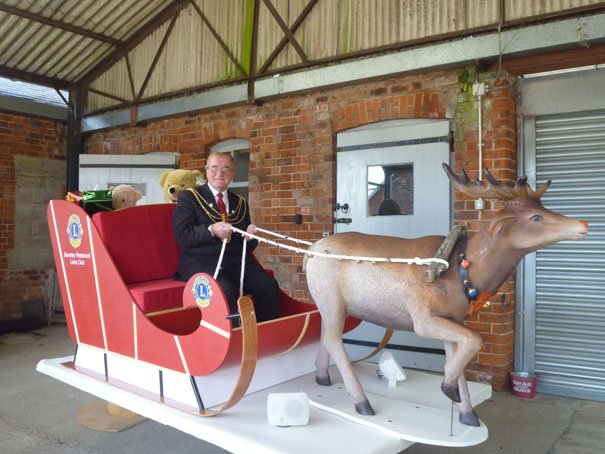 Beverley Westwood Lions Club had a visit from the Mayor of Beverley Peter Astell who had been invited by the club to check out their sleigh.
In the build up to Christmas, the Beverley Westwood Lions will be taking the sleigh to a number of events and locations in the town.
The sleigh will also be used so they can take Father Christmas on a around the streets of Beverley.
A spokesperson for the Beverley Westwood Lions, who were only formed in May of this year said;
"As there was already a Lions Club in Beverley, the members of the new Club have worked on some completely new projects."
"We have already been taking our Lions Tombola to events in the area, and this has proven popular with both young and old."
"Most of their members also helped with the annual Bonfire and Fireworks on Beverley Westwood this month."
"For several months, work has been progressing on a new sleigh which will be used to bring Christmas cheer to the people of Beverley."
"As a club we were delighted when the Mayor of Beverley came along to test the sleigh before it is shown to the public."
Details of where and when you can see the Sleigh and Father Christmas and also the other events, the Beverley Westwood Lions are involved in this festive period can be found below.
Beverley Westwood Lions Club's Events over the Christmas Period
Saturday. 28th November
The sleigh will be outside the Minster during the Minster Festival of Food and Drink.
Sunday, 29th November
The sleigh will be in Saturday Market Place for the Lights Switch on. The Club will also have a charity stall.
Tuesday, 1st December
The sleigh tours Hillcrest Drive, St Leonards Road and Copandale Road starting at 6 pm
Wednesday, 2nd December
The sleigh tours Swinemoor Estate starting at 6 pm
Sunday, 6th December
The sleigh will be in Morrisons Carpark 10.00 am – 3.00 pm
Monday, 7th December
The sleigh tours the Parklands and Highfield areas starting at 6 pm
Tuesday, 8th December
The sleigh tours Lincoln Way and Normandy Avenue starting at 6 pm
Saturday, 12th December
The sleigh will be in Morrisons Carpark 10.00 am – 3.00 pm
Sunday, 13th December
The Club will be at the Festival of Christmas together with Beverley Lions Club for 'Light a Candle for a Loved One'
Wednesday, 16th December
The sleigh tours Champney Road and the Leases area starting at 6 pm
Thursday, 17th December
The sleigh tours Lockwood Road and Rowan Avenue starting at 6 pm
Saturday, 19th December
The Club will be at the Market Cross together with Beverley Lions Club for 'Light a Candle for a Loved One'
Monday, 21st December
The sleigh will be in Tesco Carpark 10.00 am – 3.00 pm