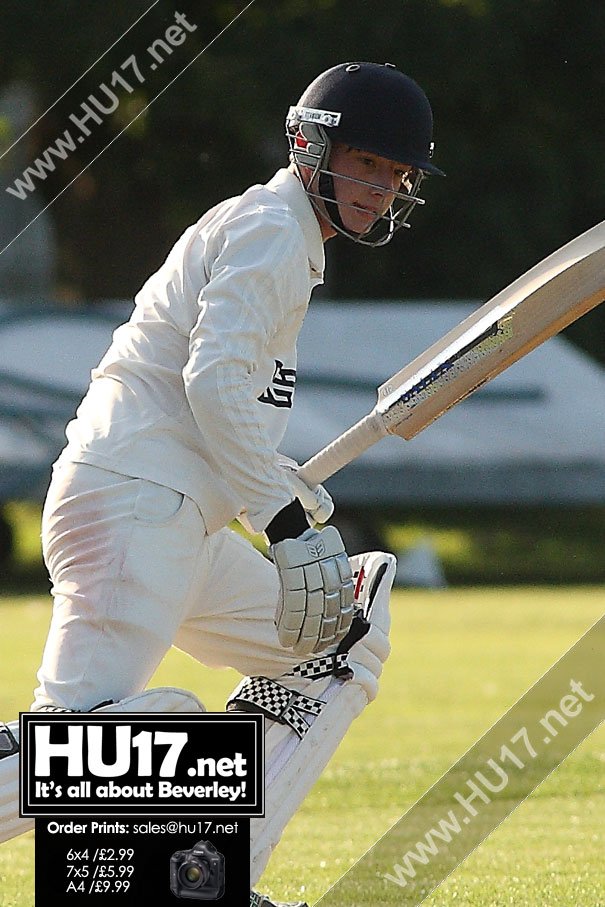 Beverley Town Cricket Club hosted the York and District Intermediate League Final on a warm and sunny Sunday in front of a large crowd at the Norwood Recreation Ground between defending champions Beverley Town under the captaincy of Jamie Roe and 2009 winners Woodhouse Grange.
Beverley won the toss and invited Woodhouse to set them a target which they duly did.
After prematch photos the teams were welcomed to the pitch to the sound of Jerusalem played by Beverley's own "Billy the Trumpeter" – Charles Fish.
After two early breakthroughs Woodhouse captain Nathan Saltmer came to the wicket and after a cautious start went on to score the maximum 50 runs before retiring. The pick of Beverley's bowlers was Brad Graham who's eight overs cost 11 runs with 2 wickets.
Woodhouse went in for tea having scored 160 for 6. Beverley were satisfied with the score as only four an over was needed to keep the trophy they had won in 2014.
Unfortunately Beverley didn't have the second innings their own way with only Greg Whyley showing any resistance to the Woodhouse attack. Whyley retired on 51 not out only to return to the field at the fall of the 9th wicket as all his other team members got themselves out.
Whyley was eventually bowled for 70 with the total at 107, with no other Beverley batsman reaching double figures giving Woodhouse victory by 53 runs.
The pick of the Woodhouse bowlers were the Durkin brothers Matt and Dan who's 16 overs yielded only 21 runs for 5 wickets between them and Saltmer who finished with 3 wickets to go with his 50 not out in the first innings which justifiably gained him the man of the match award.
It was disappointment for Beverley who will only have 2 players going overage for next year's competition when they will attempt to regain the trophy in 2016.