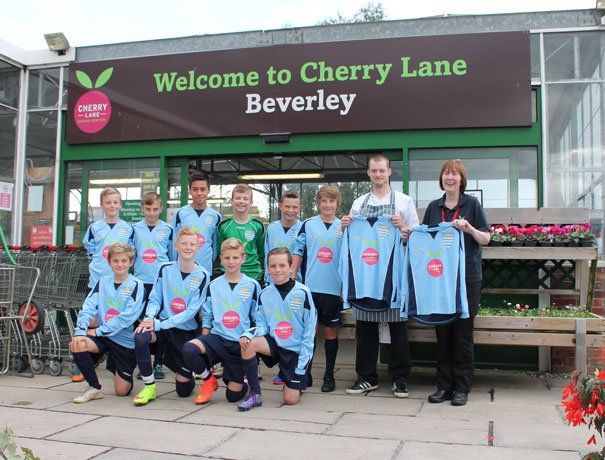 Beverley Town Football Club U13s assistant manager Steve Newell said they are overwhelmed after a local business stepped in to fund complete new playing strip for the side.
Mr. Newell commenting on the sponsorship said;
"This season we make this change from playing 9 aside to 11 aside so we required a number of new shirts as the amount of players in the squad jumped to 15."
"Our new campaign is a big leap for us as a team and we did not have enough money in our kitty to purchase a new kit."
"We contacted Cherry Lane Garden Centre as we were advised they were looking for a local football team sponsor. They have provided us with the funding needed to purchase a full kit for the upcoming season."
"I never expected Cherry Lane Garden Centre to do what they done so when they said they would cover the entire cost we were delighted."
A grateful Mr. Newell said this season was always going to be a tough one for the club as the numbers of players in the side almost doubling in size.
He explained that given the lads age some of the shirts were just simply too small to last another season as his players had grown that much since it was purchased.
Mr. Newell added;
"On behalf f the players and everyone linked to the club I would like the thank them, it is fantastic what they have done and kits looks amazing."
The deal will see the side play with the company's logo on the front of their shirts. Town's U13s play their football in the Hull Boys Sunday Football League.
Cherry Lane Garden Centre who are based on Hull Road stock a huge selection of plants, trees and shrubs along with extensive ranges for the Home and Garden and cater  pets and wildlife.
Elaine Hearnsaw, manager of the Cherry Lane Garden Centre said;
"As company we think it is important to support good causes and the community locally. We raise money in store our selves through holding little events and then the staff decide in turn who they would like to help out."
"Our chef Mike Hanson is a keen footballer and he suggested a local football team. We wanted to sponsor a Beverley side and he knew someone at the club and put us all in touch."
"Everyone here is really pleased that we were able to help them out. Myself and all the staff here would like to wish them every success in their new season."
Later this month Beverley will take to the field for the first time in their new strip when they kick off their new campaign on 20 September.