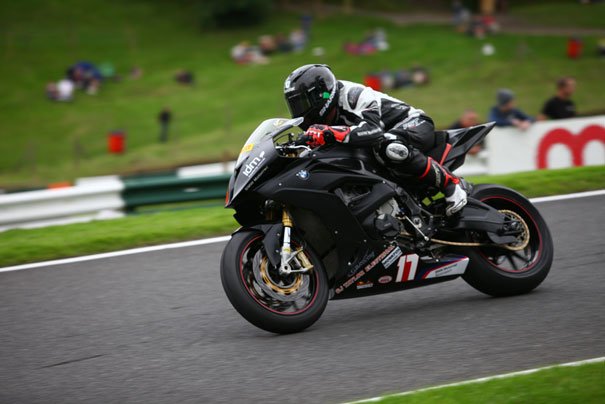 In a race marred by red flags and cut down to eight laps from the original 15 Dominic Usher rode to a fine eighth place in round nine of the National Superstock 1000 championship at Cadwell Park on Sunday.
After struggling to find a good set up for the undulating Lincolnshire course Dominic qualified well in 14th place to secure a fifth row start to the planned 15 lap race. But with delays in an earlier race the Stock 100 was reduced by three laps to 12.
As the race got underway Dominic settled into 12th place for the first two laps but just as he was poised to move further forward the red flag halted proceedings for a crash at Charlie's.
After a lengthy delay a new race was to run over just eight laps and it would be a dash to the flag with riders jostling for position . Dominic set off to a good start and was holding ninth position through the first four laps and had just moved to eighth when once again the red flag halted the race on lap six. Because two thirds distance had elapsed a result was declared at positions at the end of lap five and Dominic was awarded eighth position and a further eight championship points.
"I could have done with a few more laps as I never really got going properly. It was a bit of a messed up race weekend but I have come away with another eight championship points so it's not all bad."
With that result Dominic moves up into 11th place in the rider standings on 37 points and is looking forward to Oulton Park in two weeks time.
The next round is at Oulton Park in Cheshire over the weekend of September 4-6 when Dominic will be seeking a good result to move him into the top 10.