Another hugely successful Raft Race on the Beverley Beck will ensure local charity N.U.R.S.E. can continue their work to support the NHS.
In July the charity hosted what they say was their biggest and best event ever raft race that boasted bumper crowds and entries.
The N.U.R.S.E. Charity Chair, Jane Tattam commenting on the highly successful Raft Race said;
"This event takes over six months of planning, and we are very pleased that all went well, even the weather stayed fine, which was a bonus. We have had nothing but positive responses from the public and teams alike."
For the second year running it was The Sloop Inn with their 'Dragon Boat' skippered by Kevin Marshall, and they also won 'Best Turned Out Raft'.
Jane said;
"I'd like to congratulate Kevin and his team on winning the race, I know just how much he puts into his own planning and raft construction each year and certainly the hard work has paid of yet again."
While people enjoyed a day out they were also raising money for a very worthwhile cause.
Over the past 30 years, the committee of N.U.R.S.E. – which stands for Needed Urgent Remedial and Surgical Equipment – has raised more than £250,000 for a host of items through a variety of local fundraising events.
Some of their most well known events like the raft race on the Beverley Beck and the N.U.R.S.E. Darts Knockout mean many other people in our community are able benefit.
"We are a local charity run by local people trying to raise money to help the local NHS trust and the individuals in the surrounding community."
"Money goes towards anything managers and departmental heads bid for within the trust or within the community for equipment to aid or help support the welfare of patients, either going through the major hospitals or help for individuals in their own home."
"So that can be anything from cutting edge, hi-tech equipment down to maybe a couple of pillows or some pressure-relieving stuff just to give someone comfort at home" said Jane.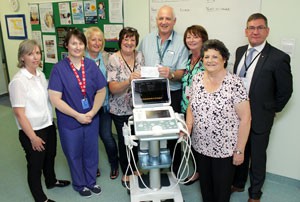 Last month the N.U.R.S.E. Charity helped to fund a Ultrasound Machine which will be used by the Vascular Laboratory at Hull Royal Infirmary.
With the machine costing £20,000 N.U.R.S.E. were approached and matched the £10,000 already raised in order the equipment to be purchased.
An Ultrasound Machine is used in day surgery for patients who are undergoing varicose vein surgery. It can also be taken onto the wards for non-mobile patients to be scanned and used to hold offsite to community clinics.
Clinical Scientist, Carole Tennison said;
"With the acquisition of this machine, the Vascular Laboratory is able to re-open a community clinic at Pocklington which previously had been closed, thus saving patients having to travel the distance to Hull Royal Infirmary."
Jane added;
"If you look at the NHS it has always needed a bit of support and because you can't save the world, we just wanted to do something in our own little corner and support our little bit of the health service."