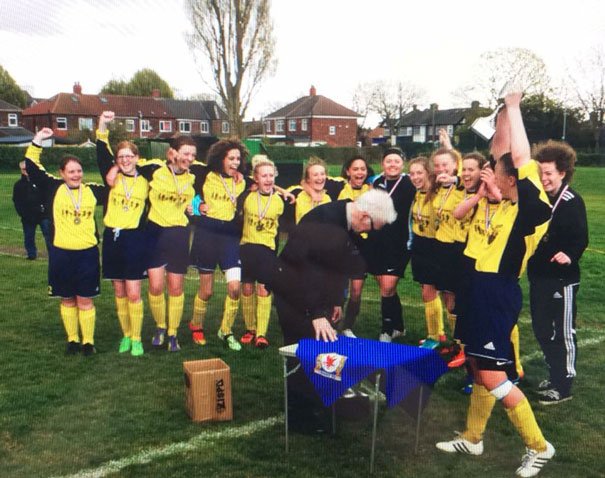 After seven Successful seasons Mill LaneUnited Yellows played their final game in junior football in the U16 Girls East Riding County Cup Final.
Their opponents were Club mates Mill Lane United Blues who in December last year became the only team to beat the Yellows for over 3 years.
So the scene was set last season U16 National Champions against last seasons U15 National Champions.
Since their defeat in December by the Blues the Yellows from Mill Lane have won 12 league and cup games scoring 99 goals and conceding just 9 times and securing the League title for the 7th successive time, as well as the League Cup along the way.
On a perfect day for football The Yellows kicked of with the breeze at their backs. Motivation was not needed for the Yellows after their defeat earlier in the season and they took the lead inside 2 minutes when captain Emma Johnson capitalised on a rebound from a shot from striker Marie Russell.
Tackles were flying in no quarter asked or given the Yellows benefitted from territorial advantage as they looked for more goals, they came closest when a 35-yard free kick from impressive defender Charlotte Holliday.
The Blues were under severe pressure but with defender Skie Wyatt outstanding and first season goal keeper Billie Marie Davies working overtime the score remained 1-0 at half time to the Yellows.
In the second half the Blue start strongly looking for the equalizer with Natalie Bell and Millie Sharp at the heart of their best moves.
Mill Lane United Yellows were in no mood to relinquish their lead and stepped up the pressure .
The second goal was created by a strong run by flying winger Tonya Storr cutting inside before leaving an easy finish for the teams top scorer Russell.
Now the Yellows were rampant creating many chances. They had a goal been disallowed for off side and saw further efforts come back off the woodwork.
Credit to the Blues who tried hard without ever having a shot on goal from open play. Three more goals followed for the Yellows as the pressure told. Two more for Russell to give her a hatrick in the game.
The final goal came from Nagee after a pass from Russell wrapping up a 5-0 victory for the Yellows securing the treble the team so richly deserved.
So the talented players from the Yellows from Mill Lane move on to womans football.
The Blues for their part can be pleased with their efforts this season runners up in the League and County cup with the knowledge they will be the bench mark next season.