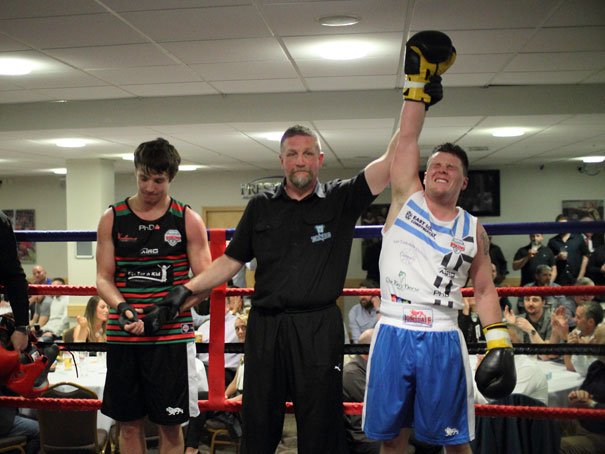 Matthew Milnes said he was delighted after he won his charity boxing match at the KC Stadium. Milnes pulled on the gloves and stepped into the ring to help raise money for Life for a Kid Foundation.
Life For a Kid was set up in March 2009 with the aim of helping children under the age of 16 by offering funds and equipment to help them lead a better life and to also help children who require life saving or life changing operations.
Speaking to HU17.net Milnes who spends his normal days working for Beerhouse Self Drive Hire said;
" I would like to say a massive thank you to all the sponsors and the wonderful support I got on the night."
"My opponent, David Brooke was tough cookie and between us I think we managed to put on a real a great spectacle for the crowd."
It was not all plain sailing for Milnes who was knocked to the canvas. However, Milnes showed great heart in getting back to his feet to regain his composure clinching the fight in the third and final round.
He added;
"At the end of the second round I was feeling the pressure of Brooke's having knocked me down but then found that bit extra in the third to get the win."
While the two went toe to toe the reality after the fight was a different story as the pair shared a drink, Milnes added;
"I spoke with david who agreed he wanted fight and I wanted to box. He believed that is why I eventually won."
"In the gym I had done plenty of training and sparing but it's a different ball game when you have someone who is determined to hit you back. As soon as the first punch landed I knew I this was not going to be an easy night."
"While I enjoyed myself this really was about two great charities, Life for a Kid and Motor Neurone Disease and I am very pleased to have been able to help."
"I have been feeling the pain in my ribs since the fight, Brooke's some heavy body shots but it was certainly worthwhile."
Milnes says he will continue to train and thinks he will be looking to tackle another white collar charity event.