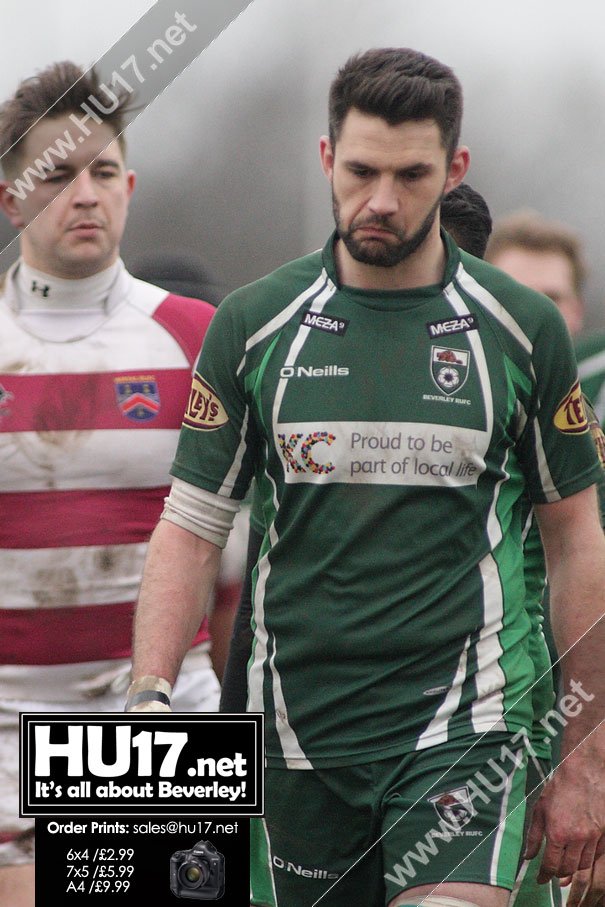 Good in parts but overall not a particularly memorable afternoon.  After their steadily improving recent performances today was disappointing for Beverley.  Yet despite not playing particularly well they fought back from 20-0 down to get to within a single score of taking the lead at 17-20.  They might easily have got it but then came a yellow card and that was the end of it.  With the man short they quickly conceded another twelve points.  As a contest it was all over.
Beverley kicked off with a stiff breeze behind them and would have scored in the first minute had Sam Atiola not ignored a two man overlap outside him.  Wirral's response was immediate.  They kicked deep to Beverley's corner, won the lineout, and drove over with prop Jack Yarker getting the touchdown.  Seven minutes later they went 8-0 up when Beverley backchat to the referee moved a penalty to within kicking distance of goal and full back James Annetts added an easy three points.
Beverley were playing with plenty of endeavour but not with a great deal of cohesion.  Too often promising moves came to nothing through a handling error or the reluctance of a runner to use the support outside him.  Nevertheless Beverley had a good twenty minutes.  Their pack was well on top and at one stage drove Wirral back some forty metres.  Alex Ogilvie and Jack Bunn in particular were both putting in a good shift. Beverley remained camped in Wirral territory for a long spell but could not find the cutting edge to break through.
Wirral were the more slick and sharper in their execution.  Beverley certainly had plenty of possession but their back play in comparison was relatively ponderous and lacking in incisiveness.  A fine run down the right by Wirral centre Daniel Harvey led to a try for flanker Mike Warren which Annetts converted.  It was a double blow for Beverley because Phil Duboulay injured himself making a tackle and had to depart the field.  They had already lost Richard Bussey with probable concussion which left them short of their two most potentially dangerous backs.  With only one back on the bench Beverley were forced to re-jig their backline but rather surprisingly opted to put Lewis Starbuck, their main lineout jumper, out on the wing.
Things immediately got even worse.  Wirral fielded the restart kick and wing Ali Baker romped away through numerous missed tackles down the left touchline to score a third try.  Nevertheless Beverley got back into it five minutes before halftime with a penalty by Ryan Murray who was at fly half after the departure of Duboulay.  Beverley were enjoying plenty of territorial play in spite of the score and deservedly closed the gap on the stroke of halftime with a nicely worked try by Craig Hancock who sprinted over from twenty metres.  Murray converted and the halftime score of 20-10 more reflected the play of the first half although it still perhaps looked a bit harsh on Beverley.
Eight minutes into the second half Beverley narrowed the gap even further when they were awarded a penalty try after Wirral had repeatedly offended at a series of penalty scrums five metres out.  Murray again converted.  Only three points in it and Beverley were now in the ascendancy.  Suddenly the game had become an exciting contest and Beverley went all out for the lead.
Sadly with twenty minutes left it all fell apart at the seams.  James McKay was yellow carded for going into a maul illegally, Wirral kicked the penalty to the corner, moved the ball out from the lineout, and Baker crossed for a converted try.  It was all over for Beverley.  Warren quickly added another try when Beverley lost the ball and two minutes from time number eight Rob Pearl touched down for a sixth.  Beverley stuck at it until the end without being able to create any clear-cut chances but the yellow card had long earlier already done for them.
Final Score : Beverley RUFC 17 Wirral 37 | Report by John Nursey