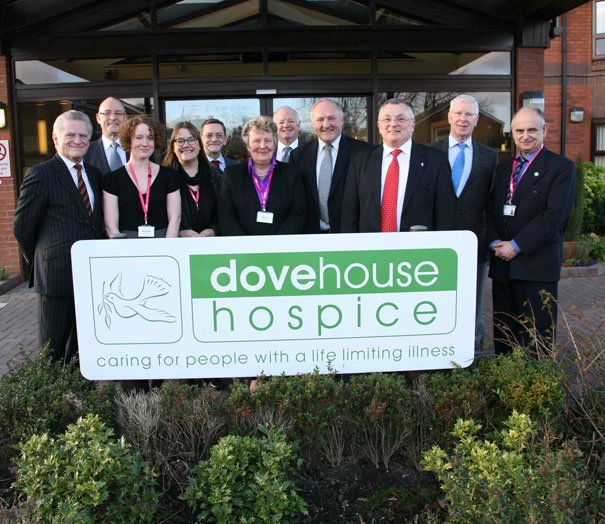 Local charity Dove House Hospice has been supported by Freemasons locally and nationally for many years and 2014 saw even more support with a Carol Service being held to raise funds for the east Hull charity and a grant from the Freemasons' Grand Charity.
Dove House Hospice received donations of £3480 from the Freemasons' Grand Charity as a part of their Hospice Grants scheme and £1000 from Beverley's Wilberforce Lodge which organised a Christmas Carol Service last year.
To celebrate this support Dove House Hospice invited the Provincial Grand Master of Yorkshire North and the Ridings, Jeffrey Gillyon, and his executive alongside representatives from local lodges to see the facilities which their donations help fund. Cheques were presented to the Hospice Chief Executive, Dr. Anna Wolkowski, and Chair of the Board of Trustees, Mrs. Janet Weatherill before a tour of the Hospice.
Karinda Jones, Fundraising Manager at the Hospice, said;
"We are so pleased to have received these recent donations from the Freemasons' Grand Charity and Wilberforce Lodge, we are incredibly grateful of the continued support we receive from local Lodges within this Province.
The hospice has a yearly running cost of £6.5million and is funded for the equivalent of just 42 days per year, the funds for the remaining days are raised by the generosity of our local community and organisations like the Freemasons – we simply could not continue to provide such excellent care to local families without such kind support."
Speaking about the grant donations, Jeffrey Gillyon, Provincial Grand Master of the Province of Yorkshire North & East Ridings, said:
"Freemasons in this Province are thrilled that The Freemasons' Grand Charity has continued to provide this vital funding for our local hospices. The care, compassion and support they provide to the community is outstanding and we are delighted that we are able to show our continuing dedication to their cause."
Dove House Hospice relies on the support of local organisations and external funding bodies in order to continuing service the people of Hull and East Yorkshire with progressive life limiting illnesses