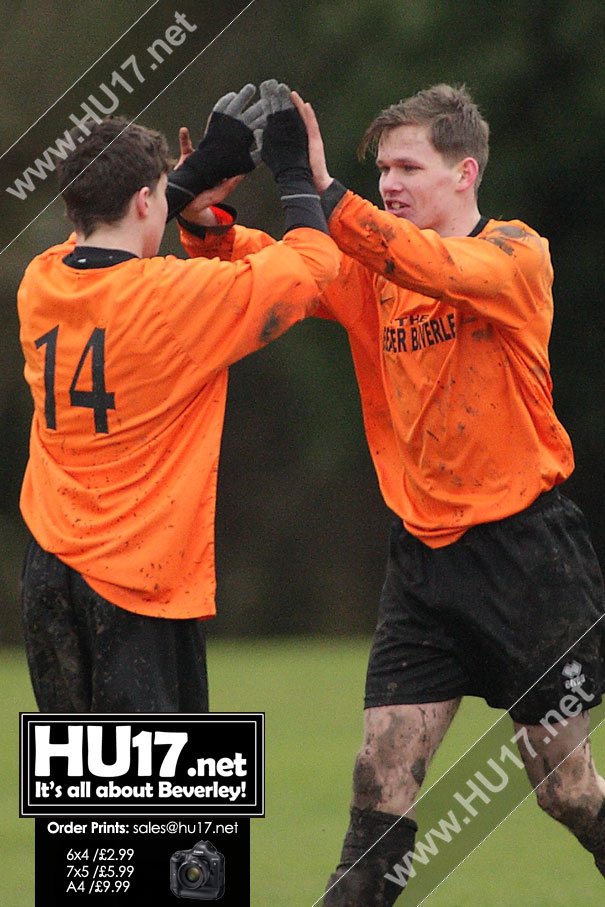 Beverley Town Reserves made it back to back wins after they beat Sculcoates Amateurs Reserves at the Norwood Recreation Ground.
Town cruised into a two goal lead playing what gaffer Ed Grady described as some of the 'best football' they have played this season so far.
Shaun Gibson got the first from the spot with Charlie Jewson adding a second as the home side ceased the incentive on awful playing surface.
Throughout the second half Town continued to create chances but were guilty of not converting and wrapping up the game.
Sculcoates got a foot hold in the game when Mark Smith scored throwing the visitors a life line in match they looked dead and buried in. Moments later Andrew Finnerty popped up in the right place at the right time to level the match at 2-2.
A flustered Grady turned to his bench bringing on 16 year old Ollie Baldwin. The promising young player was to repay his managers faith as he set up Craig Muirhead to clinch Town's winner.
Town had a further opportunities to wrap up the match. Phil Gardner dribbled the ball from deep inside his own half. With just the goal in sights he appeared to freeze to spot, he never shot nor did he pass to any players who screaming for the ball.
Grady said;
"I do not know what he was thinking, there were three of four passes on for him he has never been known for his prowess in front of goal. When I asked him why he done what he did he said he was wasting time!"
Over Grady was pleased with the three points but felt his side could have made life a lot easier for themselves, commenting on the game he said;
"We should have been out of sight. We never took the chances we made. When you let a side get a goal back the momentum shifts and an error at the back allowed them to peg us back."
"The response was good especially as the pitch was in such a bad way. I was particularly pleased for Baldwin to come off the bench and create a winning goal, he is certainly one for the future."
Sculcoates assistant manager Peter Walker said;
"I thought despite the terrible pitch conditions both teams still played some good football."
"You could argue Town were lucky to get the spot kick as just moment earlier we felt that the flag should have gone up for offside."
"It  was an entertaining game with plenty of action, for us the result comes second and we are pleased with the effort of our young players and they're determination to fight back from 2-0 down."
"As a club we will focus on the positives within our team from today's game."
Beverley Town return to action in two weeks time, again they will be home when they host St George's FC.
Final Score: Beverley Town Reserves 3 Sculcoates Amateurs Reserves 2