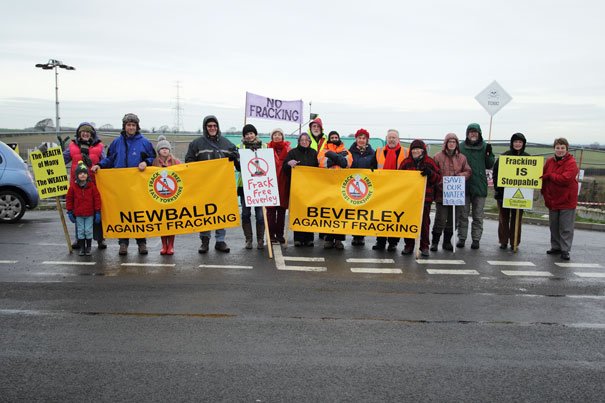 Labour's George McManus says that East Riding of Yorkshire Council is not doing enough to defend local people and the environment from industrialisation.
Mr McManus was expressed his concerns this weekend where he joined members of the Green Party and local residents at ant Fracking protest held in Walkington.
Concerns within the local community continue to grow that people's views are simply being ignored when it comes to fracking and that the if it goes ahead in Walkington, commenting about the situation Mr McManus said;
"I personally believe that Fracking for shale gas, and the preliminary works being carried out at Crawberry Hill, are being conducted in the mistaken belief that Shale Gas is a 'Silver bullet' as the current government believe, for our economy and energy needs."
"My background in geology and gas pipeline construction leads me to conclude that minimal economic benefit is likely to derive from shale gas in East Yorkshire."
"My political experience tells me that East Riding Council is failing to challenge government over its support for fracking."
"ERYC is failing to use its powers to defend the people and environment of East Yorkshire from the industrialisation of the area."
"Beverley Labour's Party candidates in the forthcoming elections and our Prospective Parliamentary Candidates Margaret Pinder, are united in our opposition."
"This will be a key local policy commitment for us and we will advocate the case at national level."
Saturday saw politics put aside as those who oppose the work being carried out by Rathlin Energy in Walkington stood shoulder to shoulder with protesters from the camp and also residents from the surrounding villages.
Mr McManus added;
"There needs to be a wide consensus from people of all parties and of no party that fracking should be stopped."
"The damage it will cause to our local environment and our wider climate change challenges, will recognise no boundaries, political or otherwise."
"I am delighted to be able to share a platform and work with people who are like minded."
"It's disappointing that there are local Tories who are sympathetic to our aims but are unwilling to challenge national government."
"I would give them a warm welcome if they were to rally to the cause, before it's too late."
Protesters at the Crawberry Hill protection camp face an uncertain 72 hours after they were served with a removal notice.  An appeal is being made to the notice but if that fails it could see the bailiffs return to move them on Wednesday this week.