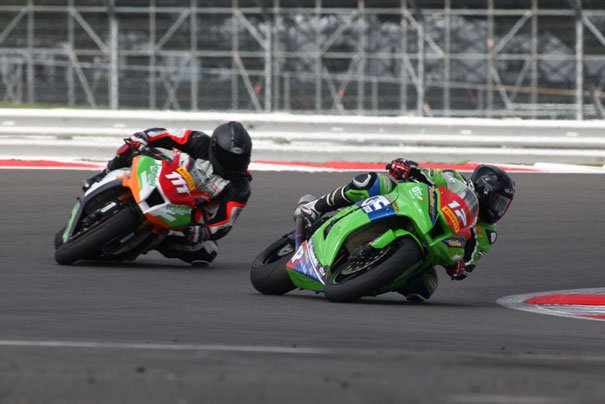 The Wyberton based G&S Racing Kawasaki team travelled to Silverstone for the penultimate round of the National Superstock 1000 and 600 championships at the weekend resulting in a 12th place finish for Kevin Van Leuven in the stock, 600 class and the same result for Dominic Usher in the Stock 1000 race while Tom Fisher finished in 26th place after struggling towards the end of the race with his injured hand.
Dutch rider Kevin Van Leuven was at a disadvantage even before racing got underway as he had never been to Silverstone before let alone raced there. Free practice was a non event for Kevin as he had only just gone out on track for his first lap when another rider t-boned him causing him to crash uninjured, his practice over.
They went straight into the first qualifying a few hours later with Kevin on the back foot having no track experience, but he persevered and completed the session in 18th place. The second practice was cancelled as a heavy rain storm hit the track causing track action to be abandoned for over two hours and grid positions for the race being taken from qualifying one.
Kevin began his campaign from the sixth row and moved up into 17th place mid race. With two laps remaining, he was up into the points in 15th place and on the final lap he was up to 12th. An excellent result considering the lack of track time.
Dominic Usher completed his free practice in 15th position and went on to better than in the first qualifying session to 12th. With the rain putting paid to the action, there was no second qualifying and Dominic began the 11 lap race from the fourth row.
As the race began Usher was soon up to 11th place and battling within a large group of riders contesting seventh position. He was poised to move further ahead but was hit from behind by another rider who caused him to lose time, and he crossed the finish line in 12th place.
Also in the stock 1000 class Tom Fisher took his Kawasaki through to a start from the 10th row. He maintained his position through the first couple of laps before making a move forward to 27th. He continued in this position until the final lap when he made it through to take 26th at the chequered flag.
Team manager Mark Fisher said;
"Considering his lack of track time at a new circuit Kevin rode a cracker of a race to finish in 12th place. To get knocked off his bike at the first corner in the first session and then losing more track time when the second qualifying session was cancelled he rode remarkably well."
"Dominic was involved in a good battle for seventh place and would have finished further up the order if he hadnt got bumped on the last lap. His lap times were so much quicker than last year, so he is progressing well."
"Lack of track time affected Tom's performance, but he has made huge steps forward again despite still struggling with his hand injury. The consultant has told him he would heal quicker if he were not racing a motorcycle, but we only have one race left now so he will hopefully be able to get the hand sorted through the winter. Silverstone is a high speed circuit with some tricky turns, and that aggravated the injury even more."
The final round of both series is at Brands Hatch on October 19 but prior to that, Tom will ride at the Stars at Darley meeting at Darley Moor on Sunday, October 12.