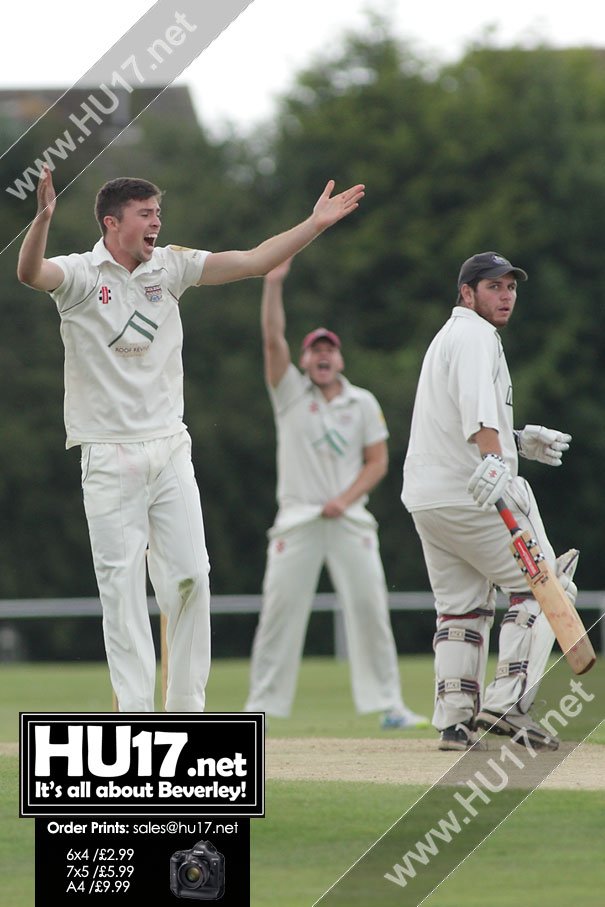 Beverley Town Cricket Club were beaten by Sheriff Hutton at the Norwood Recreation Ground.
Batting first Beverley managed a score of 206, Andrew Burton scored 36 with Matthew Mudd chipping in with 28.
For Beverley it was the same old story, the top order yet again failed to make any real impression on the game and when Mike Cooke was dismissed making the score at 95/6 Beverley looked as though they would be lucky to reach 150.
Yet again the tail wagged for Beverley, Mudd came in and batted well, ducking a few bouncers blasting his way to 28 while Burton dug in trying not to give his wicket away.
Tom Haytack also put in a good innings as did spinner Jamie Roe as Beverley's bowlers showed a lot of guts with the bat closing the innings on a respectable 206/9.
In reply Sheriff looked odds on to win, having had to bat in the heat Beverley's bowlers looked tired but a flurry of late wickets including for Roe gave the home side hope who never gave up.
Truth of the matter is the top order need to take a long hard look at themselves, they are lacking runs and once again it was left to bowlers to try and win a match.
Had Olly Grantham, Jonathan Fish, Anthony Spence and Cooke managed to post another 50 runs collectively in the first innings this may well have been a very different game.
Yes Beverley missed the injured Alex Morrel but this game was not lost by the lack of wickets, it was lost due to a lack of runs posted by the specialist batsmen.
Beverley walk away with just 8 points, Stamford Bridge and Fenner are both now with touching distance of Beverley in the York & District Senior Cricket League.
Next weekend face another tough test away to Easingwold who are one place above them in the league.
Sheriff Hutton Bridge beat Beverley Town by 4 wickets