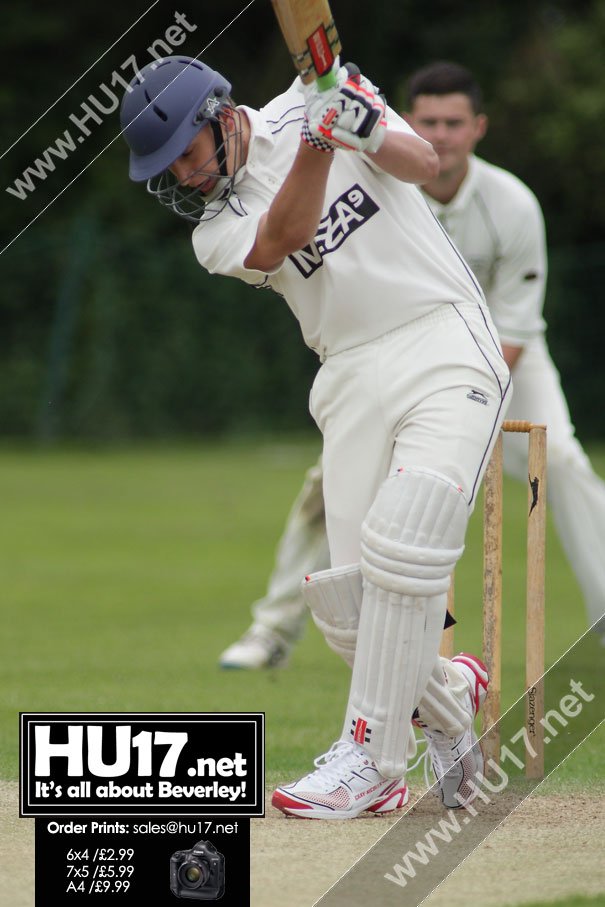 On Sunday, the 4th XI, with 8 Under 19s in their side, travelled to face HICE 1st XI at Brantingham.
Bowling first, Matthew Saint made a breakthrough in the first over for the perfect start.
Joey Franklin (1-42) made the next breakthrough in his final over at 64 for 2. Owen Parnaby bowled another great spell (0-27 from 6 overs) whilst at the other end Charlie Bough (0-21 from 7 overs) bowled his best spell of the season, and was at times unplayable.
Backed by a great team fielding performance, the young 4ths made the more experienced HICE battle for every run. Neil Graham was introduced and struck in his first over to an outstanding catch from Parnaby.
Lewis Richardson (0-31) bowled well with Graham who struck twice to end his spell with 3 for 23. HICE closed on 197 for 6.
Richard Thompson and Will Fish started well before Fish fell for 16. The rest of the batsmen tried to stay with Thompson who again battled hard but wickets fell at regular intervals and at 59 for 6 Parnaby joined Thompson and they moved the score on to 86 before Thompson fell for 42 leaving three overs to survive.
Parnaby (10 no) and Franklin did the job and the 4ths innings ended on 93 for 8 gaining a well-earned draw.
Skipper Richard Simpson told HU17.net;
"Proud how the young players performed over the weekend. Two difficult away games and to not get beat in both games was tremendous. On Saturday, the debut`s of 14 year old Owen Parnaby and 12 year old Ed Chappell were very encouraging and special praise for Pip Pearson, 3 wickets and a superb catch."
"On Sunday, we took 8 U19`s to play one of the top side`s in the league and battled really hard again for a draw."
"Bough bowled really well 15 year old Lewis Richardson and Owen Parnaby also shone whilst Neil Graham showed his value to the team with another 3 wickets."
"Thompson again led from the front with 42 but it was left to Owen Parnaby to end 10 not out to cap a really good weekend for the 14 year old."
"This week it`s possibly our hardest game, at home against Hessle, who beat us 3 weeks ago. Hopefully some senior players will return but if not we will again give the youngsters a chance to develop."
"It`s also time for myself as captain to get some runs and lead from the front."
Beverley Town Cricket Club 4th XI 93 for 8 drew with HICE 1st XI 197 for 6
Reported by Ray Teal