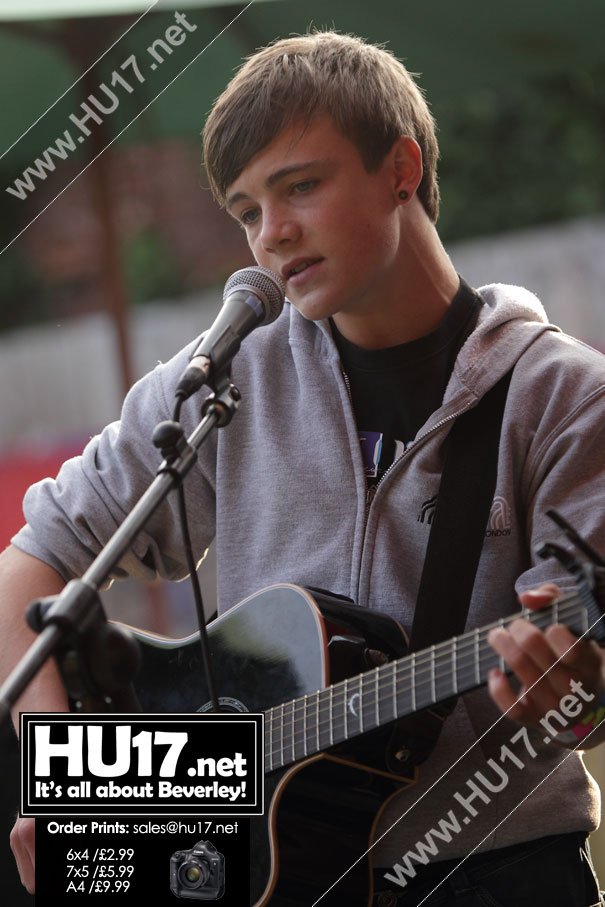 Tom Astell the man behind the Farthing's Garden Stage said the inaugural event held this weekend was a massive success.
Speaking with HU17.net Tom said;
"I was very pleased with how things worked out. We set up the Garden Stage to give unsigned a local talent a chance to perform and get their name out there locally."
"On the night we featured six local acts and the feedback we have had from the people who has been very positive."
"Going forward we have more music events planned throughout the summer where we will welcome back acts and also introduce new acts."
Longcroft School pupil Ben Cook was one of the acts that featured at the event. Tom feels that his appearance will help give the young musician a platform to go on to better things, he said;
"For Ben the Farthing's Garden Stage will certainly help him become better known locally. It is through events like this that unsigned artists are able to build followings which they can sell their music too."
Ben said;
"It was a great environment to perform in nice and relaxed, and the music was well received. I would love to go back and play there again."
"I have to say a massive thanks to Tom for getting me involved in it, I hope to see that he continues organise these garden parties because as this one went really well and created something great for both musicians and music lovers."
With the Beverley Folk Festival happening there was a musical feel about Beverley which was helped by the sun shine, Tom said;
"We had fantastic weather, which was matched by quality food and drink, and I think we showed that the garden at Farthing's is a great benefit to Beverley as a quality venue. There was also a real musical feel to Beverley this weekend with the Festival being held at Beverley Racecourse."
Restaurant owner Adam Farthing was also pleased with the event, commenting on the Farthing's Garden Stage he said;
"An event like this gave us an opportunity to showcase another part of our restaurant and try out our new outside bar. We were also able to try out a new bar menu which is an exclusive to the garden this summer."
Tom added;
"These events are perfect for the whole family. It was very nice to see so many families there at our first event enjoying the food and music. It had a real community feel."
Any artist who would like to be involved in future events can do some by contacting Farthing's Steak Emporium.