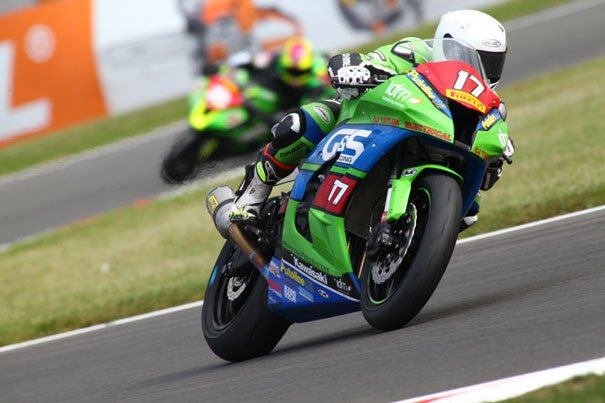 All three G&S Racing Kawasaki riders successfully completed their respective races at Snetterton on Sunday with Kevin Van Leuven recording a good top 10 result to add to his point's tally in the Stock 600 class while Dominic Usher and Tom Fisher both finished the Stock 1000 race, Tom registering his best result of the season in his rookie year.
In the Stock 600 class Kevin Van Leuven completed his qualifying in 13th position and began his campaign from a fifth row grid position. The Dutch rider who is still learning his way around the British circuits made a steady start to the 12 lap affair settling into 15th place on the first lap before making his way through to 14th one lap later.
As the race unfolded Kevin gained in confidence and picked off the riders ahead one by one gradually reeling in Ben Currie who was circulating some two seconds ahead.
He increased his speed and passed Currie on lap nine to move up into ninth place which he held with ease to the chequered flag. Kevin is now placed ninth in the rider standings on 19 points.
The Stock 1000 race was interrupted by a red flag after six of the planned 14 laps when several bikes went down at Palmer's. The restart was rescheduled to after the first Superbike race and was down to a six lap sprint to the flag.
Dominic Usher moved up to 26th place but was beaten back to 27th by his teammate on the final lap where he remained to the chequered flag. Tom Fisher ended the first lap of the re run in 28th place but moved up a place on lap two. On the final lap he made a move on Dom Usher and overtook his teammate to cross the finish line in 26th place.
Commenting on the race meeting Usher said;
"I encountered a problem with the bike in the first running of the race and pulled into the pits. But we got another bite of the cherry as the race was restarted as a completely new race later in the day and although the bike was still not 100% to my liking we managed to get out on the grid."
"To make it up into the points from that far back in just six laps was a bridge too far, and I finished in 27th place."
Mark Fisher, Team manager said;
"We have had a good weekend here at Snetterton. Tom got tangled in the second corner melee on the first lap and ended up dead last. However, he got his head down and put in some good lap times to finish the six laps in 26th place."
Dominic has always struggled to get to grips with this circuit, for some reason. He missed the test here earlier in the year because of work commitments, which left him a bit on the back foot. Snetterton is a fast circuit, and Dom just struggled to find the pace this week.
"Kevin continues to impress. Again, he has had to learn his way around a new track, but he has gone about his business in the right manner and has earned himself a good top-10 finish."
"He is finding the British way of racing a little different as our racers put everything into the first couple of laps whereas Kevin is used to taking his time until the field has spread out a bit. However, he is learning very quickly that you have to go for it from the start, and I am sure there is a lot more to come from him."
The next round is at Knockhill in Scotland on June 29 when once again, Kevin has to learn the circuit and Dom and Tom will be seeking good finishes to edge their way nearer to a points scoring finish.