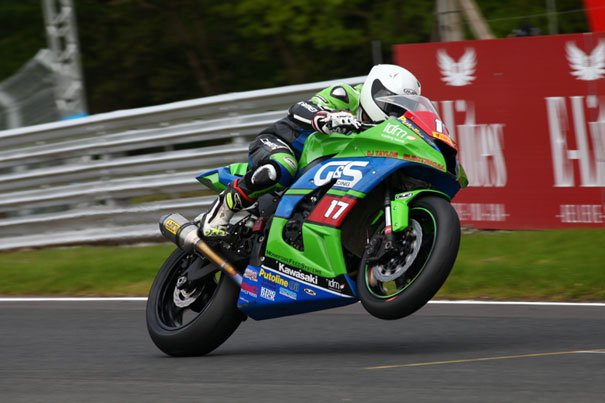 All three G&S Racing Kawasaki riders completed their respective races at Oulton Park in round two of the Superstock 1000 and 600 championship on Monday with Dutch rider Kevin Van Leuven securing a points finish to add to his point's tally, which sees him consolidate eighth place in the Stock 600 championships. Dominic Usher just missed out on a point's finish in the Stock 1000 class while Tom Fisher qualified for and completed his first race on the big Kawasaki.
Once again, Flying Dutchman Kevin Van Leuven was on the back foot having to learn his way around the technical Cheshire circuit during free practice and qualifying. He did attend the BSB test day the previous week, but as it took place in heavy rain the track time was of little use to him.
However, throughout free practice and qualifying in the Superstock 600 class he improved his lap times in each session to start the 14-lap race from a sixth row grid position. He made steady progress throughout the race working his way up to cross the finish line in 12th to pick up a further four championship points taking his total to 12, and he remains eighth in the rider standings after just two rounds.
Free practice and qualifying went well for Dominic Usher in the Stock 1000 class, and he improved his lap times in each session qualifying well to begin his campaign from a seventh row gird position. He made good progress throughout the planned 15 lap affair and was running in a strong 17th position just moving ahead of Karl Harris to 16th when the red flag halted the race at 14 laps distance.
Once the fallen rider was removed from the results Dominic from Beverley was awarded 16th place as even though he had moved ahead of Harris the result was taken from the previous lap, although if the race had gone full distance, he would have taken 15th place and his first championship point of the campaign.
Usher said;
"So close but so far away, if the race had gone that extra lap. I would have finished 15th and made it up into the point; however, it wasn't to be. I have once again shaved my lap times and am riding faster and better than ever before so it's only a matter of time before I am in a position to claim championship points."
Team Manager Mark Fisher said;
"I have been impressed with all three of my riders this weekend; they have all performed well. Kevin continues to amaze me as he has never ridden at these circuits before, and he just takes it all in his stride."
"Tom has worked so hard through practice and qualifying and thoroughly deserved his place on the grid. Despite still having a few problems with his thumb injury, he put in a good solid ride."
"Dominic, well what can I say, what does the guy have to do to get into the points? He would have been there this week but for the red flag taking it back a lap.
"Things have moved on tremendously this year and even the qualifying was under lap record pace so to even get in the points we have to go some!"
The next round is at Snetterton on June 15 but meanwhile, Kevin will have a round of the Superstock 600 at Donington Park as part of the support package to the World Superbike round on May 25.