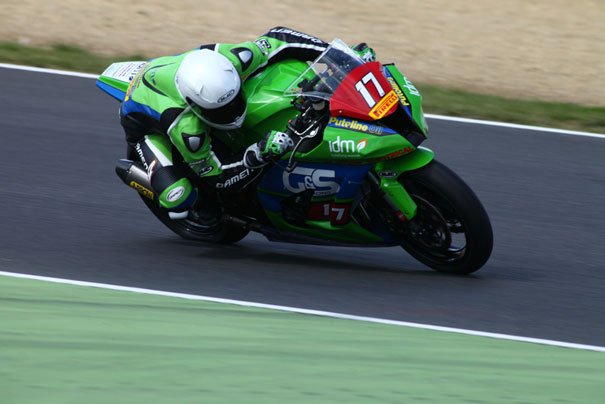 G&S Racing Kawasaki rider Kevin van Leuven secured a strong eighth place on his debut for the team in the first round of the National Superstock 600 championship at Brands Hatch while Dominic Usher finished 18th in the Superstock 1000 class.
Tom Fisher was making his debut in the 1000cc class and although he didn't make it through to the main race he finished in 19th place in the non-qualifiers race.
Dutch rider Kevin Van Leuven had never seen Brands Hatch before the weekend never mind raced there so he spent Friday's test session learning the intricacies of the short and technical Indy circuit.
He was more confident in the free practice session moving up to 16th and improved his time even further to 11th in the first qualifying session. Final qualifying was a washout with many riders crashing in the dire conditions and the grid had to be set from times in the dry first session.
Kevin started Monday's race from the fourth row and was soon up into eighth place. But he was unable to make further progress and crossed the finish line in eighth to pick up eight championship points.
Dominic Usher completed the first qualifying session well but as with the 600 class final qualifying was a washout. He started Monday's race from a sixth row grid position and was immediately up to 17th place. But the race was halted for a crash and a new race started to run over 20 laps.
Once again Dominic got away to a good start and by lap five was up to 15th, but he was in a monumental battle for position within a large group of riders with places being exchanged throughout the 20 laps and eventually crossed the finish line in 18th place.
Beverley's Dominic Usher said;
"I feel I have ridden well this weekend. I am just a bit disappointed not to have scored points. I have never gone so fast and not scored points. "
"But it was very competitive out there and I was in a group of 10-12 riders all fighting for position, it was handlebar to handlebar racing, very tight and exciting. The bike was awesome, thanks to the team for their hard work."
Tom Fisher was making his debut in the Superstock 1000 class after making the move up from 600s and it was always going to be an uphill battle for him to qualify for the main race.
With 55 experienced riders on the grid Tom did very well to claim 35th place in qualifying but sadly it was just not quite enough to reach the grid in the main race and he had to be content to ride in the non-qualifiers race on Saturday.
But the rain was still falling and the track conditions treacherous so Tom aired on the side of caution and finished in a creditable 19th place.
Mark Fisher , Team Manager said;
"I am delighted with the results this weekend. Everyone worked really hard, the bikes all ran well and the riders all put their hearts into their racing. I was delighted with Kevin who brought points back to the team; he had a lot of work to do to learn the circuit but took it in his stride and produced a strong result."
"I am sure it won't be long before he is challenging for top results. Dominic rode so well, he was battling it out within the large group of riders and could easily have been 12th instead of 18th. I am disappointed for Tom not to have made it through to the main race but its early days for him and he will get there in time."
The next round is at Oulton Park over the May Day weekend of May 5 when all three riders will be seeking to progress further in their respective championships.