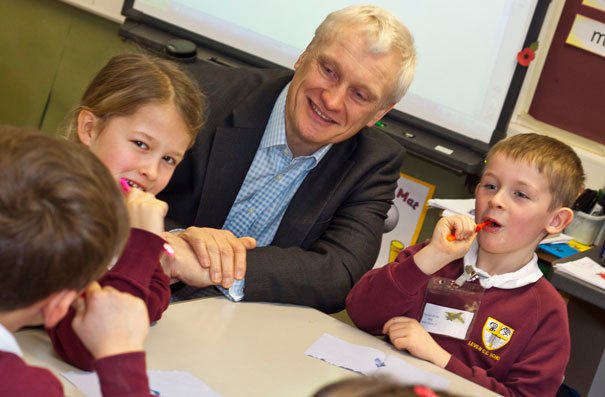 Leven Primary School were visited by MP Graham Stuart who joined pupils that are taking part in a pilot scheme to improve dental health in youngsters.
In the UK it is estimated that 31% of children starting school have teeth decay, with a third of children over the age of 12 having visible decay something this project sets to tackle through education.
The project, known as the Teeth Team Programme is being delivered by 543 Dental Practice from Hull with 30 primary schools participating across East Yorkshire. School children are brushing their teeth in school every day, receiving 6 monthly check-ups in school and given fluoride varnish applications where clinically necessary.
Commenting Graham said,
"The Teeth Team Programme is creating good habits at an early age. By instilling the right techniques of brushing your teeth, including dry brushing, at an early age it's going to make a difference to the health of these children's teeth. It's great; all the children looked to be really enjoying brushing their teeth in school."
"Teeth Team is a no brainer, not only do I fully support this programme, I want it to go out further and wider and certainly I would like to get this programme into every nursery and primary school in my constituency."
Chris Groombridge, Joint Managing Director at 543 Dental Practice said:
"We are in the process of bidding for funding so that we can roll this out across all East Riding primary schools and I am grateful of Graham's support for the project to highlight the importance of regular dental care for children."