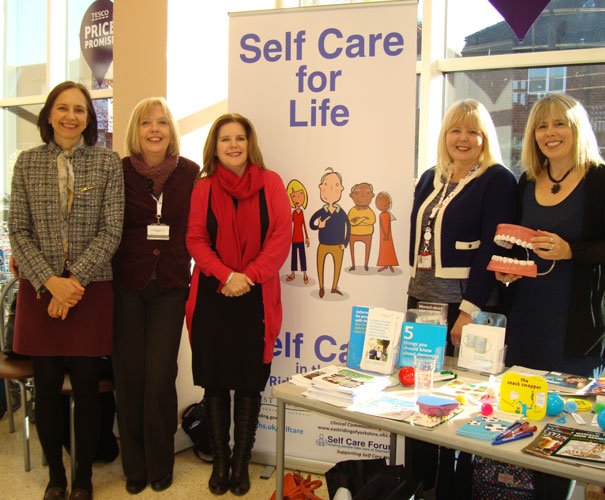 NHS East Riding of Yorkshire CCG and East Riding of Yorkshire Council are using Self Care Week 2013 as the focus for a series of information events to promote self care and healthy living in local markets and supermarkets between 7 November and 9 December 2013.
"Self Care for Life – Take Control" is the theme of this year's Self Care Week campaign. Representatives from both organisations will be visiting Driffield, Bridlington, Beverley, Pocklington, Withernsea, Goole and Willerby to talk to people about choices and support available to people to help them manage their own long-term personal health.
Self care includes eating properly, taking regular exercise and looking after symptoms of common everyday illness. It is also about taking control and recognising when to self care and when to seek advice, and to know where that advice should come from. The aim is for self care to be embedded into everyday life so that it becomes a lifelong habit for individuals, families and communities.
Local services including the NHS, Public Health, libraries, health trainers, smoking cessation, healthy lifestyle, local optometrists and oral health, the Carer Support Service and the Alzheimer's Society and others are working together to promote self care during this period – getting people involved in learning how to improve their own health and their family's health.
Information will be available on men's health, stopping smoking, eye care, preventing falls, the East Riding Libraries' Read Well scheme, back care, dementia, health checks, oral health, screening and much more. The events also offer a good opportunity to seek public views on local health and
health care services. The events take place at:
19 November 9.00 – 16.00 Pocklington Market
21 November 10.00 – 14.00 Withernsea, Aldi superstore
26 November 10.00 – 14.00 Goole, Tesco superstore
9 December 10.00 – 14.00 Willerby, Waitrose superstore
Dr Gina Palumbo, Chair of NHS East Riding of Yorkshire CCG, said:
"Self Care Week is an important campaign for the NHS. It highlights how we can all take steps to become more health conscious and knowledgeable about our own health, and make choices that impact positively on our physical and mental wellbeing.
"Part of self care is supporting people to better understand their own long term health conditions. In the East Riding this has included the introduction of 'holistic' long term conditions clinics in our GP practices, working within the community to reduce the number of people who fall, and helping patients diagnosed with dementia to live well and maintain their independence."
Andy Kingdom, East Riding of Yorkshire's Deputy Director of Public Health, said;
"Health is more than just an issue to worry about. Health is a resource for living and self care is about looking after yourself in a healthy way that maximises your life chances. Self care means keeping fit and healthy, as well as knowing how to take medicines, treat minor ailments and seek help when you need it. If you have a long-term condition, self care is about understanding that condition and how to live with it.
"In the East Riding we are constantly searching for ways to make the healthy choice the easy choice for our residents, to help them get back the control of their health and lives that they desire."
You can also find out more about how to Self Care for Life and take control by visiting www.nhs.uk/selfcare.