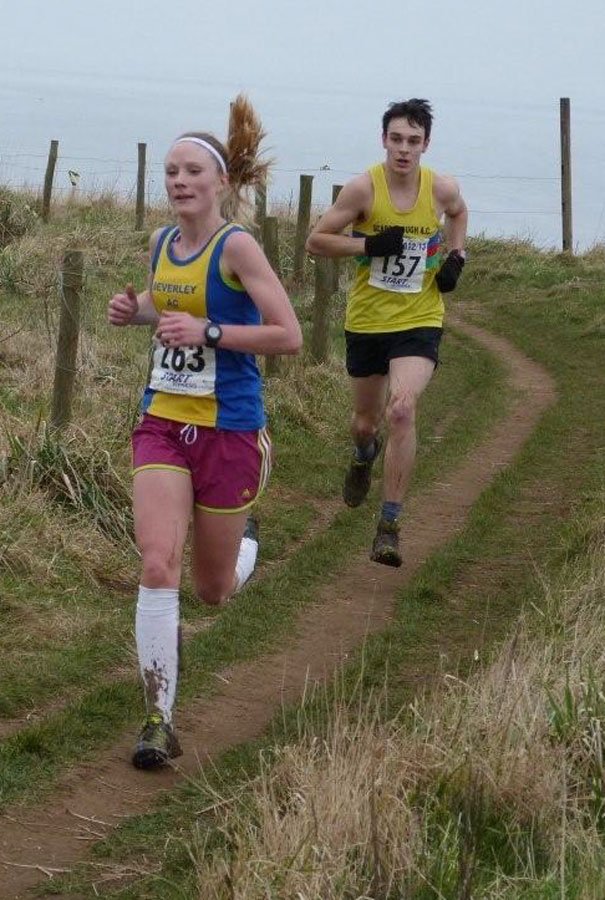 Last Sunday saw the first race in the 2013/2014 East Yorkshire Cross Country series, at Bishop Wilton. The race covers a demanding and hilly six miles, heading steeply upwards on to the Wolds from the village, and ending with a plunging descent to the finish line. In warm and sunny conditions for cross country running, Beverley AC was very well represented with 27 runners overall, in a field of 137 athletes representing 8 clubs from Hull and East Yorkshire.
Beverley AC's Carla Stansfield convincingly won the women's race, crossing the line in 42:33, over four minutes in front of the second placed woman and a very strong 12th place overall. Carla has been following an arduous speed training programme and the benefits of this showed in her impressive running. The men's race was won by Stuart Carmichael (City of Hull) in 37:23.
Lewis Holloway was the first male Beverley runner home, in a time of 41:22 and in 10th place overall. In the team competition, the first three women and first six men score points for their club. Stansfield's team mates Laura Egan and Sam Allen contributed towards Beverley's 3rd place women's team, finishing their race in 52:54 and 52:57 respectively. In the men's team, which took 4th place, Holloway was joined by Luke Davison (43:21), Steve Ostler (43:50); Phillip Reese (45:44) and father and son duo Mark and Ethan Dalton (46:11 and 47:09).
Mark was pleased to beat his son, who is still a junior member of the club, having lost to him at the previous weekend's College Canter race at Bishop Burton. City of Hull currently dominate both the men's and women's team competition. Their men's team took 5 of the top 10 places in the race, while three of their female runners were in the top ten fastest women.
The next race in the series is run by Beverley AC, and takes place on Sunday 10th November at Drewton Woods.
Beverley AC finishing times at Bishop Wilton: Lewis Holloway 41:22; Carla Stansfield 42:33; Luke Davison 43:21; Steve Ostler 43:50; Phillip Reese 45:44; Mark Dalton 46:11; Ethan Dalton 47:09; Paul Clark 48:16; Pete Watkinson 49:04; Roy Steele 51:11; Neil Bant 51:18; Laura Egan 52:54; Sam Allen 52:57; Graeme Pittaway 52:59; Mariana Barbera 54:27; Simon Pick 54:59; Steve Willietts 55:02; Steve Parkinson 55:44; Bill Grieve 57:29; Mike Ashcroft 57:44; Mark Oglesby 58:53; Dianne Coleman 60:51; Brian Richardson 62:04; Alex Gymer 63:10; Christine Hemmingway 63:48; Pete Myers 64:06; Jacqui Dickinson 72:11