Beverley Town Cricket Club 2nd XI had a comfortable win at the Norwood Recreation Ground over bottom of the table Harrogate II.
After the shock of losing a wicket to the first ball of the innings Town were soon moving as Ben Fish and Tim Smith put on 160 for the second wicket.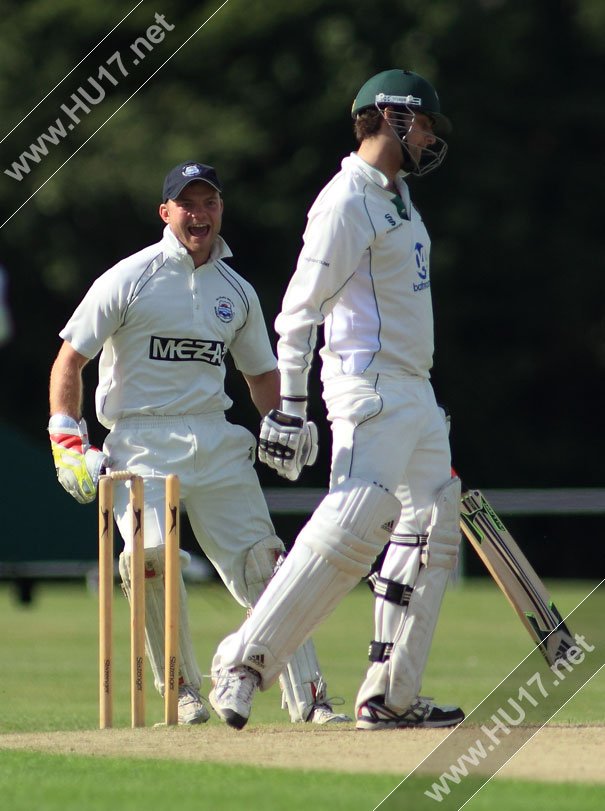 When Smith went for 81 there followed the by now familiar 2nd XI middle order collapse, though this one was not quite as dramatic as last weeks, and 160 for 2 became 210 for 6, Fish one of the batsmen to fall for 85.
Jon Vodden (20*) and Steve Blake (17*) put on an unbroken partnership of 38 for the sixth wicket as Town closed on 248 for 6, a total boosted in no small part by the generosity of the Harrogate fielders as seven chances were put down during the innings.
Kez Thompson (3-20) and Brad Dobson (1-42) gave Town an excellent start and Harrogate were soon 9 for 3. They rallied to 81 for 5 and the sixth wicket pair were still at the crease with 107 on the board but Steve Blake (1-28) bowled a useful spell before slow bowlers Pete Parnaby and Greg Whyley took centre stage.
The blend of youth and experience suited Town as Whyley (3-22) took advantage of some bounce in the wicket to bowl an excellent few overs with considerable turn and Parnaby used his wealth of experience to claim 2 for 17. He also safely pouched his second catch of the day at slip to seal the win, the last five Harrogate wickets falling for just 27 runs as they subsided to 134 all out in 33 overs.
The 2nds now travel to Heworth as they continue their efforts to get out of the second relegation position in York Senior League Division One.