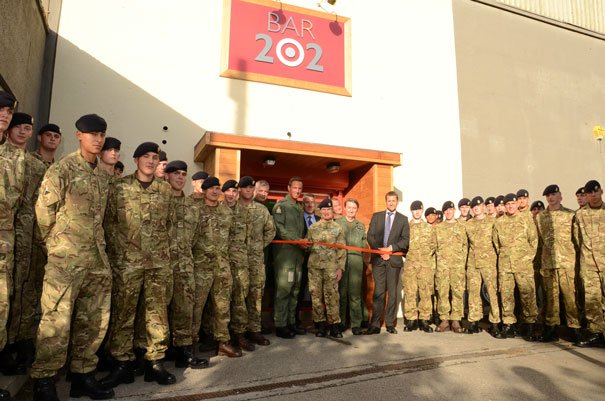 A new bar, Bar 202 has been opened at Leconfield Defence School of Transport bearing the name of the E Flight 202, the final RAF Unit that will serve at the base.
RAF Search and Rescue Squadrons have been stationed at Leconfield since 1959 but will be disbanded in 2015.
Sqn Ldr Stu Gwinnutt, OC E Flight, 202 Squadron with Steve Groves, Sodexo's Contract Director, Lt Col Carol Prosser, Chief of Staff DST and members of E Flight, 202 Squadron and Chris Bray Divisional Director Sodexo Defence all attended the official opening the new Bar 202.
The opening of Bar 202 is the first phase of an extensive refurbishment programme at Normandy Barracks that will see a range of new facilities opening to the Defence community over the next few months.
Additional enhancements will include a larger Londis retail shop, a Costa Coffee outlet, a Subway and major improvements to the soldiers' dining facilities.
The significant financial investment being made by Sodexo at Normandy Barracks will also be bringing a new food offer to the soldiers' restaurant which will provide an improved dining experience to its customers by increasing choice, offering personalised 'cook to order' dishes.
Bar 202 replaces a seven year old facility as part of Sodexo's drive for continuous improvement in the support services it offers to its customers, not only at the Defence School of Transport, but at MOD sites across the UK.
Lt Col Carol Prosser said;
"We are delighted in the investment that Sodexo, who we work closely with on a day-to-day basis have made in the retail and leisure facilities at Leconfield. "
"This will improve the quality of life for all those within barracks, both students and permanent staff, military and civilian."