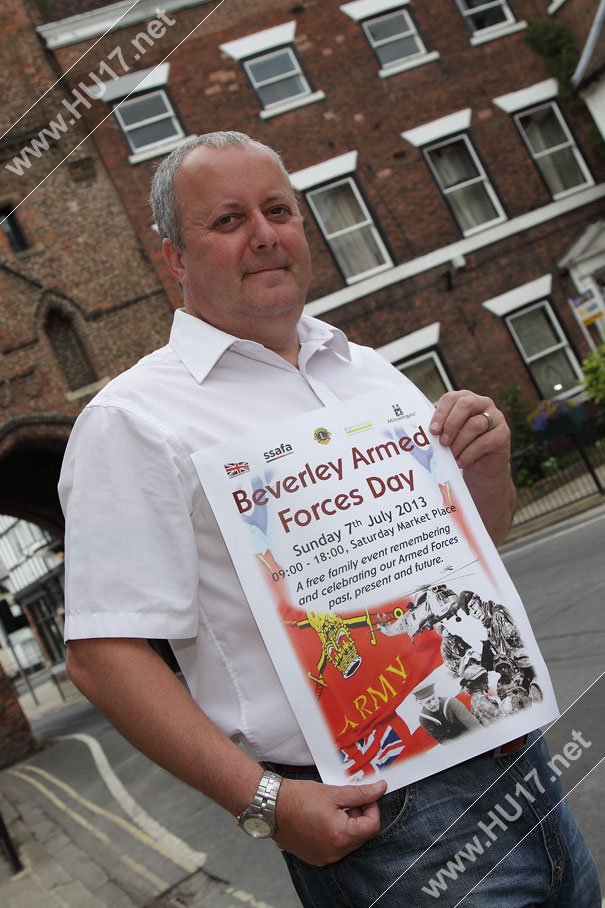 This Sunday sees Beverley Armed Forces day takes place in the town centre, and it promises to be a real family affair.
Now in its fifth-year Armed Forces Day has become one of the key festivals hosted in Beverley and is only made possible through sponsorship and the support of local businesses.
Organiser Cllr David Elvidge said;
"SSAFA East Yorkshire is very grateful for the continued support of the MOD and the local community, without whose help we could not continue."
"Sponsorship and help are both still needed for the next year's event when we would like to put on a worthy day to commemorate the centenary of World War One."
St Nicholas Primary School Choir will get the 2013 proceedings under-way at 9.30am ahead of the official opening at 10am which will be conducted by a number of key officials from the around East Riding.
Other highlights planned for the day include the Freedom Parade which begins at 10.40am at Gallows Lane and arrives in the Town Centre for around 11am.
Throughout the day there will be plenty of entertainment, stalls and activities for youngsters to enjoy including the ever popular climbing wall and paint balling range.
Outside The Grapes there will be a collection and display of historic military vehicles that will tanks, lorries and jeeps.
Farthing's Steak Emporium are lending their support to the event by running a BBQ which will help also raise money for SSAFA.
Organiser Cllr David Elvidge added;
"I would like to encourage people to come out and support the armed force's personnel from Lecconfield this is the first time they are exercising their freedom rights in the town."
"The parade will be made up of personnel from all three services, most of whom are just begging their military careers."
New for this year is the end of the day concert which will feature two tribute bands, All Mod Cons that play music from the Jam and Sticky Fingers which are a Rolling Stones tribute act.
PROGRAMME OF EVENTS Please note that the schedule may be subject to change nearer the event.
09:30 – St Nicholas School Choir
10:00 – Official Opening with Lord-Lieutenant The Hon. Mrs. Susan Cunliffe-Lister, High Sheriff Mr. Stephen Larard, ERYC Chairman Cllr. Claude Mole and SSAFA East Yorkshire and Beverley Armed Forces Day Chairman Cllr. David Elvidge
10:10 – Beverley Musical Theatre
10:40 – Defence School of Transport Freedom Parade (Step off Gallows Lane, New Walk, North Bar Within, through North Bar, North Bar Within, Saturday Market Place)
11:00 – Drum Head Service and Defence School of Transport Freedom March
11:35 – Wartime Poetry recited by Graham Stuart MP, Major (Retired) Terry Cavender, Cllr Bryan Pearson
11:45 – 1940's music with Cherie Lawrence
12:30 – Artillery on Tour – historic military weaponry
13:00 – Humberside Police Concert Band
13:45 – Beverley Church Lads and Church Girls Brigade
14:15 – Longcroft Gospel Choir 15:00 – Humberside and South Yorkshire Army Cadet Force Band
15:30 – Beverley and District Pipe Band
15:55 – Pipe Major Paul Wright
16:10 – Stikky Fingers – Rolling Stones Tribute Band
17:00 – All Mod Cons – Jam Tribute Band