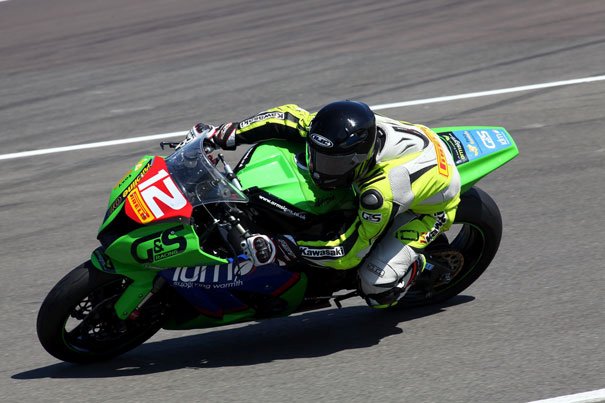 It was a weekend of ups and downs for the Wyberton based G&S Racing Kawasaki team at Donington Park with Nottingham rider Tom Fisher equalling his best ever result of fourth place in the Superstock 600 race while in the 1000cc class Dominic Usher from Beverley crashed out after losing the front at McLeans and Stockport rider Dave Ferns had his race spoilt after having to avoid a first lap crash which left him at the back of the field to make up time and complete the race in 29th place.
Because of the dreadful weather conditions on Friday there was little point in going out and perhaps crashing on the slippery surface so the team lost valuable set up time which put them on the back foot.
But the sun was shining on Saturday and all three riders were able to get out on track to post some credible times in their qualifying sessions. Tom Fisher began his Superstock 600 race from the fourth row of the grid in 11th place and was soon on the pace and up into eighth position after just two laps. He then passed James Lodge for seventh and became embroiled in a seven rider battle for third place. A good run would have put him up to third or one mistake could drop him down to 10th.
He moved into sixth place on lap six and was looking for a way past the rider ahead when the safety car was deployed for a crash further downfield. This halted his progress and the pack bunched together waiting for the car to leave the track. With just two laps remaining of the 12 the race was back on and it was a dash to the flag with the bravest taking the honours.Tom was quick to move into fourth place and held station to the chequered flag to equal his best ever result in the class. The 10 points accrued at Donington see Tom move into joint 10th place in the rider standings on 24 points.
Tom Fisher – That was by best result by far this year and equals my best ever finish. I was hoping to have a bite at third but someone passed me at turn one on the last lap and I had to concentrate on getting back past him so missed out.
Thanks to all the team for their hard work this weekend and also our loyal sponsors and supporters without whom we would not be racing.
Dominic Usher began the Superstock 1000 race from a seventh row grid position in 21st place and once settled into his race began to make up ground. He was soon circulating well within the top 20 and posting fast lap times. But it all went wrong for him when he lost the front going into McLeans on lap seven and crashed out of the race.
Usher said,
"I have no idea what happened, the front just washed out from under me and down I went. My lap times were comparable to those posted by some of the top 10 riders and it was certainly the fastest I have ever been around this circuit. But for the crash I would have been looking at a strong points finish. Thanks go to the team who worked so hard on the bike this weekend. It is just a shame I could not have rewarded them with a finish. But I will put this behind me now and concentrate on the next race at Knockhill on June 16."
Dave Ferns began his campaign from the 11th row and got away to a good start. But a two rider crash right in front of him forced him to take avoiding action and he fell back to 31st place. He spent the rest of the race trying to make up the lost ground and completed his race in 29th place.
Mark Fisher, Team Manager said
"What a weekend we have had. Tom rode really well he was running at the front during qualifying but then had an issue with a bee on his visor while trying to post the fast lap which would have put him up onto the front row for the start of the race. But he rode the wheels off the Kawasaki and tried his hardest posting the third fastest lap of the race in his efforts to make the podium."
"The pace car spoilt it a bit for him as he could have been on the rostrum the way he was going but that's how racing goes sometimes. The other two riders were brilliant. Dave finished where we expected to be fair. He could have been a little bit better but he has gone quicker each weekend and put in his personal best times. Dom was flying and was up to 17th when he crashed."
"He would definitely have been in the points and posted some superb lap time, faster than he has ever been before. He made a mistake, lost the front and down he went. But he has learned from this and we move forward. Unfortunately there is a fair bit of damage to the bike so if there is someone out there who could give us a bit of help it would be greatly appreciated."
"Overall, what a change of fortunes with the weather, Friday was abysmal and it was not worth risking man or machine in that. But then the sun came out for the rest of the weekend making it much more enjoyable."
The next round is at Knockhill in Scotland over the weekend of June 14-16.