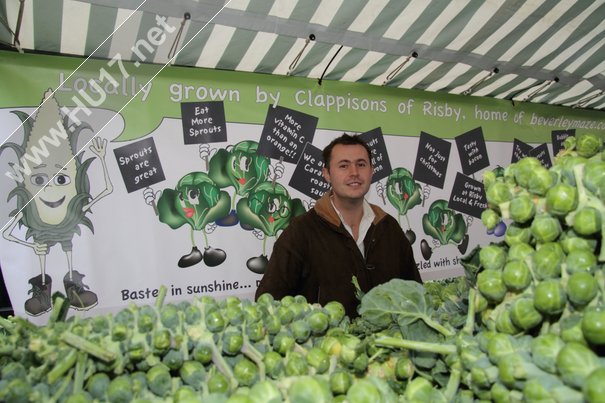 Almost a hundred of Yorkshire's finest food producers will be showcasing their products to consumers at the 2012 Beverley Food Festival, to be held on Sunday 7th October in Saturday Market Place, between 9am and 4pm.
With the emphasis on locally-grown and reared produce, visitors to the Beverley Food Festival will be able to taste and enjoy the abundance of delicious and unusual food which has mostly been produced within a 30-mile radius of the town. The food festival is now in its seventh year and has tripled in size since its humble beginnings, when 30 stalls of local produce were welcomed into the town. It is now the largest free local food festival in the region.
Helen Watson, Town Clerk, said:
"Beverley Town Council Food Festival showcases a fantastic array of local producers and features the benefits of buying, cooking and eating locally produced food."
"It's a great way to support the local economy, the environment, and take advantage of the benefits that seasonal local food brings. We have over 90 stalls this year with some new stalls to offer even more variety and cater for all tastes."
"Last year we had around 15,000 visitors in one day."
"The event grows year on year and offers a great local food experience and family day out in our beautiful medieval market town."
This year is set to be the biggest yet, with nearly 100 stalls selling a selection of food and drink, all produced in the local area. There will be a wonderful array of produce on offer from meat, breads, pickles, preserves, fish, seafood, cakes, game, artisan cheeses, poultry, vegetables, fruits, pies, eggs and speciality meats to coffee blends, beers, cider, ice creams and chocolate. There will also be plenty of opportunities to sample their wares before you buy.
In addition to the stalls, there will be a 300-seated cookery theatre marquee, in which local chefs will be demonstrating their prowess and giving ideas as to what to cook with some of our local produce. These include James Mackenzie (Pipe and Glass Inn, South Dalton), Tina Cerutti (Cerutti 2, Beverley), Matthew Barker (The Westwood, Beverley), Ben Cox (The Star @ Sancton) and Roger Nowell (Tickton Grange).
There will also be a Twin Town Challenge with a chef from Lemgo in Germany going up against TC Patisserie's Thierry Condette, representing Nogent-sur-Oise in France. All the food cooked is available from the food festival and residents and visitors will be actively encouraged to grow, cook and eat local food.
Plus, there will be the final of the HEYHA copper saucepan competition, for apprentice chefs Luke Underwood from The Star @Sancton and Michael Flower from the Hallmark Hotel in Hull to show off their skills, and a Ready Steady Cook style challenge featuring Jonathan Parker and Carl Wheatley from Radio Humberside as they aim to beat the clock…and each other. Both of these will be presented by Phil White.
Not only do we have BBC Look North and Radio Humberside's Peter Levy officially opening the Food Festival at 9.30am, but Radio Humberside breakfast presenter Andy Comfort will be doing a live broadcast from the event.
There will also be a charity barbecue in aid of the Mayoral charities (Cherry Tree Community Association and Beverley Chamber of Music Festival – encouraging and supporting young musicians in Beverley), tombola, competitions, and entertainment from Beverley Brass Band and The Longcroft Gospel Choir, as well as an outdoor Zumba session from Lisa Godman and fun for the children with Professor Fiddlesticks, making it a great day out for all the family.
The event is being staged by Beverley Town Council in association with the town's Local Food project 'From Field to Table', part of the Big Lottery Fund's Local Food scheme, which is a £57.5million national programme providing funding for projects working to make local food more accessible and affordable to communities.
Keeping it local, the schedule for the 2012 Beverley Food Festival is being produced by Beverley-based design company Pure. The schedule will include a directory of all of the Food Festival's stallholders as well as adverts, to make it easy to contact the producers and buy their products after the event.
Creative Director of Pure, Keith Loveday, said: "This is a great opportunity for the individual producers to promote their products directly to consumers and also to network with other producers."
Any local businesses wishing to advertise within the schedule can contact Keith at Pure Creative on 07854 615030 or email foodfestivalads@creativepurity.co.uk