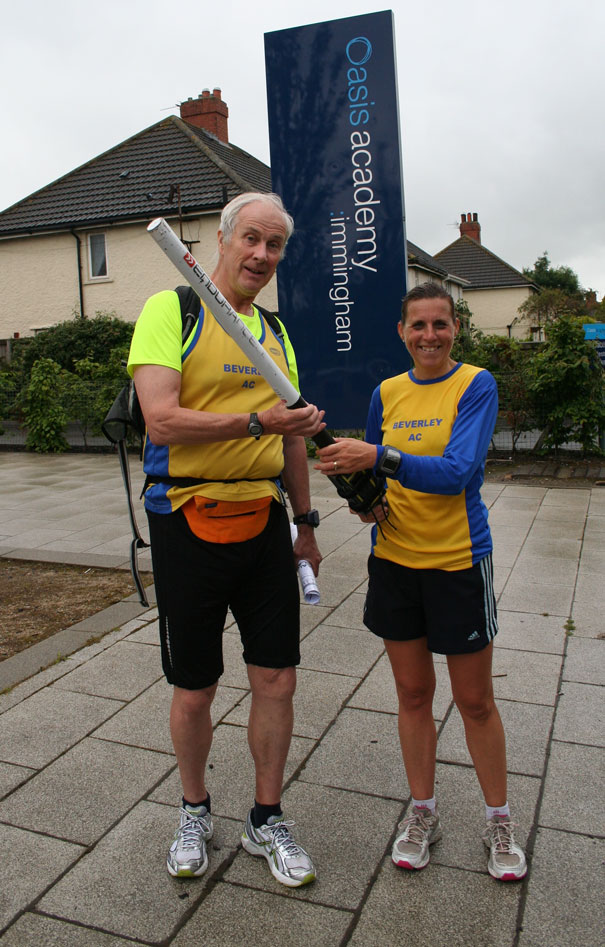 Two members of Beverley Athletic Club have taken part in the Endurancelife Real Relay, an alternative Olympic torch relay that is following the 8000 mile route of the official event and covering the whole distance on foot in one non-stop journey.
The Real Relay began ten days after the torch relay. Each stage is around 10 miles long and runners carry a relay baton containing a tracking device which allows progress to be followed online. Runners are all volunteers and must navigate their own way between the start and finish of their stage.
The only condition is that they must go via the communities visited by the official Olympic torch relay. There is no support crew leading the way or following behind.
Julie Donald and Mike Abbotts signed up to run a leg of the relay each last Monday afternoon. Running alongside busy main roads in the pouring rain, Julie completed a 14.5 mile stage from Brigg to Immingham via Wrawby and Humberside Airport. An experienced distance runner, she completed her stage 15 minutes ahead of schedule. She said: "Knowing we had to keep to a tight time schedule and complete our stage made the run quite nervous and exciting."
She passed the baton to Mike at Oasis Academy in Immingham and he ran 11 miles to Cleethorpes via Grimsby Dock Tower arriving five minutes ahead of schedule to pass the baton to the next runner. He commented: "Given that it started 10 days after the official relay it has been amazingly well organised and superbly supported by runners, mostly club athletes, who thought the official relay lacked true Olympic spirit."
The event has been organised by Andrew Baker of sports events company Endurancelife. He was shocked to discover that the Olympic flame was transported by bus between stages and decided to organise an alternative event.
All the money raised from the event is going to children's charity CHICKS which provides respite care for sick children.