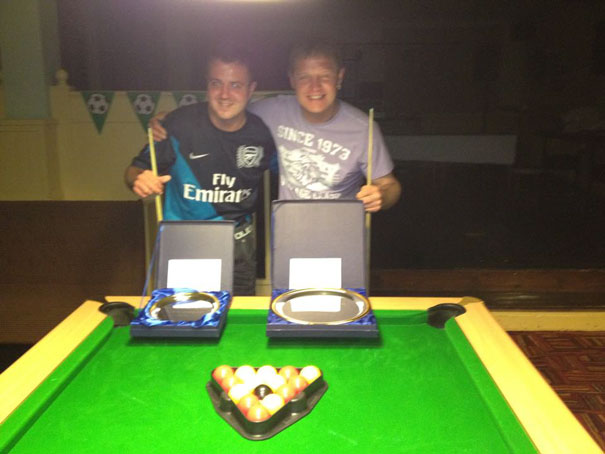 Beverley's only singles pool league the 'Premier League of Pool' concluded its first full season on Wednesday night at the Humber Keel Tavern public house. The night hosted the presentation awards and the cup competition.
The cup was played with a great atmosphere, and some great matches were on show. Several Hull players were in the competition, but it was the Beverley lads that showed their quality making up 7 of the 8 quarter finalists.
The pick of the quarter finals was Robbie Whiting against Mark Gabell as they were only separated by 1 point in the league, the match went all the way with Robbie Whiting clinching the final frame decider as he did the league.
Robbie played Leon Bruce in the Semi Final who himself came through some tough matches. Leon put in a great display, but the league champion was too strong on this occasion and booked his place in the final against Beverley's Steve 'Oscar' Waslin who came through some tough matches notably against the landlord Lee Oxley with that match going the distance also. The final was played late into the night with Steve 'Oscar' Waslin clinching the cup crown.
It topped off a great season which has now established the 'Premier League of Pool' as a great sporting event in Beverley.
The league now boast 15 former East Yorkshire County pool players, with the Premier League making up the majority of those. The league itself boasts another 2 divisions the Championship and League One.
Although the league has 36 players in total, there may be room to open it up to another division and if you fancy pitting your pool skills in a strong league you can contact the league organiser on 07857 652365 and register your interest for coming seasons.